Broadcast News
10/08/2015
IBC Debut For Vizrt's New Viz Engine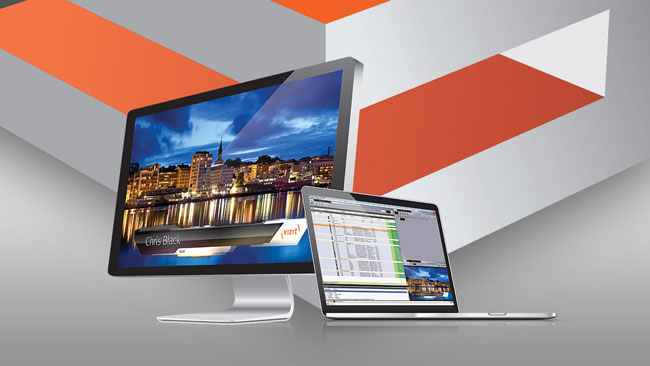 Vizrt has announced its line-up for IBC2015, booth 7.A20. At the show, the company will demonstrate the latest version of Viz Engine, a 4K multi-channel graphics and video playout server, a cloud-based Graphics Hub and J2K, SMPTE-2022 and Sony LLC streaming services.
The latest version of the Viz One media asset management system, in combination with Viz Engine, will also be on show, with fast SAN storage and playback production workflow. Featuring at IBC2015 are:
Cloud-based graphics production
Premiering at IBC2015 will be the new cloud-based Graphics Hub, which enables collaboration between graphics departments and broadcast centres. The cloud-based system allows Viz Engines in multiple locations to playback real-time content from the cloud, an ideal feature for broadcasters with separate production hubs and OB facilities. Disaster recovery operations are also fast to replicate content to new servers once links to the cloud are established.
Live 4K and IP video and graphics production
The latest version of Viz Engine functions as a multichannel graphics and video playout server for HD and 4K, while also allowing IP video streaming in and out. It allows Vizrt's graphics and video to be composited in real-time and output in a range of content formats for use online, on mobile devices or live on-air. With the optional centralised SAN clip playback, file transfer is not needed as growing clips can be played back live on air. The system remains expandable, as multiple GPUs can be added for more complex productions. Viz Engine supports end-to-end J2K and SMPTE 2022 production, assisting the transition to IP-based or SDI/IP hybrid infrastructures.
The latest in asset management
Viz One, which is now certified to handle AS-11 DPP MXF metadata, will be demonstrated at IBC2015. It enables multiple Viz Engines, or any other video server, to access media directly from a central SAN. This gives users the flexibility to choose content from any networked server. Vizrt will also show its enhanced file format support which enables the use of compressed H.264 files in their native format. The company will also highlight the ease of delivery of VoD content variants when using its latest-generation transcoding and encoding toolset Coder.
What's coming next from Vizrt
In addition to the above, Vizrt will unveil a new HTML-based newsroom system with an intelligent user interface compatible for mac and PC providing journalists with an easy-to-use tool for populating graphics templates, browsing and preparing videos and setting up automation controls and videowall presets.
Editors will also get a preview of a new graphics plugin for Final Cut Pro X which features the Vizrt meta graphics workflow which allows them to add Viz Engine-rendered graphics to the timeline and store them as metadata.
With the new Preview Desk tool, producers in the control room can now see all video assets in preview and on air. The tool allows on-the-fly editorial decisions to be made quickly during live production. Show Maker, which is integrated with the Viz Mosart and Viz Opus automation systems, also lets producers script content using an intuitive interface, suitable for live productions that need simple story scripting but don't have a large MOS workflow.
Total screen control in the studio
The latest version of Viz Multiplay has the ability to use multiple Viz Engines to drive high-resolution content to a number of video walls using a single interface. This development includes new tools for previewing video and graphics, filling in templates and utilising any other types of media content.
Sports analysis
Vizrt will feature the latest version of sports analysis tool Viz Libero, which provides live integration with Viz Engine. It creates telestration graphics and animations while giving operators access to real-time preview and playout. The introduction of support for the Evertz DreamCatcher completes Viz Libero's workflow integration with all major video servers.
Engage the audience with Social TV
The latest version of the Vizrt Social TV solution will also be premiered at IBC2015. The workflow integration of this single-box solution enables the harvest and moderation of data so it can be triggered to air custom graphics. Its integration with Twitter Curator will also be demonstrated which gives users access to tweets, trendlines and metrics which include gender breakdown and total volumes. This lets producers compare insight from several streams and generate polls and hashtag battles for broadcast.
Mapping the world
The latest version of Viz World, Vizrt's real-time 3D mapping system, will be displayed featuring new tools for journalists and operators. They can now dynamically change the number and order of destinations in animated maps as well as change map projections. Users are also able to select imagery profiles for the DigitalGlobe Online service which lets them see different collections of imagery in any focus area.
Image: Vizrt's Viz Engine and Viz Trio for video.
www.vizrt.com
(JP)
Top Related Stories
Click here for the latest broadcast news stories.