Broadcast News
15/12/2015
360 Degree Aerial Video With Drones – FAQs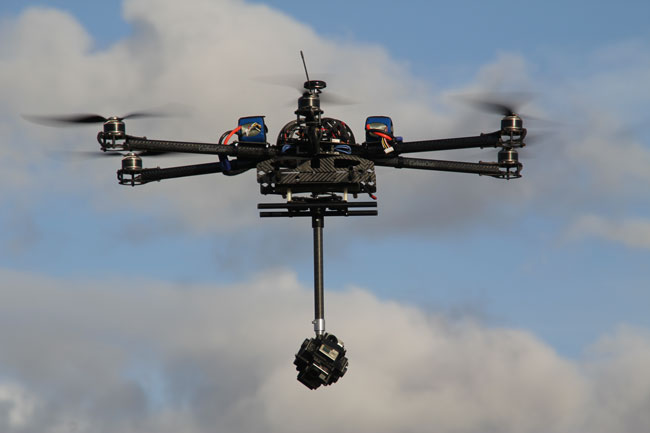 Technology is in a constant state of motion in the video industry and even more so in the drone and visualisation industry. That doesn't mean marketing, visualisation and production companies need to adopt every new trend, but one thing you might want to pay attention to over the next 12 months, is 360 video and in particular 360 degree aerial video.
It's a different form of storytelling, one of the most important things to consider with 360-degree video, or "spherical video", is that creators approach this format as an immersive experience rather than a typical video. Unlike traditional videos including aerial videos, viewers have control over what they see.
Simply, the viewer controls the recorded camera angle by tilting and panning on their computer or mobile device via the video player. This can be an excellent tool for publishers that want to deliver an immersive rich media experience: You could give your audience a fully interactive look at a tourism destination, castle, a house for sale, a new building, or even a sports or special event, as examples.
Like ground based 360 degree video, aerial 360 can bring a whole new perspective and viewing experience. Like most new systems, there are some pitfalls. 360 video produces some amazing footage, but because it's a new technology there are some production downsides and challenges.
Drones for 360 degree video and camera systems
At the present time there are no production / retail drones or 360 video camera rigs for them. If required a 360 Degree Video drones will need to be built, developed and maintained specifically for this purpose. GoPro and several others are currently working on systems which are rumoured to be released in 2016.
Cameras
The best 360 camera setups currently for drones are built around multiple GoPro setups with GP3, GP3+ and GP4, with the 3+ and 4 being the preferred cameras. Although there are some consumer 360 degree video cameras, these tend to be low quality, HD or 4K systems with small sensors. Several high end systems are in development, but are thought to be either too heavy for drones or extremely expensive at this time.
For good quality, affordable 360 video a minimum, of six GoPro's will be required for video with no stitching holes and good overlap. The weight of a good 6 GoPro rig and mount will be around 1.4kg. Several mounts / holders are now available off the-shelf which lends them to drone mounting.
Airframe
The drone air frame needs to be designed specifically to carry the video camera payload for 360 degree video. Hexacopters make for a very good platform for this. They have a good power to weight ratio. Hexacopters also give some level of redundancy should a rotor fail in flight. This coupled with dual batteries give some level of confidence of your valuable 360 degree video gear.
Weight
For the UK market it is desirable that the drone be designed and built to stay under 7kg, total weight. This allows for flights to be made legally in urban areas and controlled airspace by a suitably licensed and insured operator.
Drone in view
As much of the aircraft and its systems need to be kept out of shot as possible, batteries and other devices should be carried above the level of the rotors. A long pole carrying the camera pod should be fixed directly in the centre of gravity under the aircraft. Too long a pole and the camera pod will have a pendulum effect; too short and too much of the drone will be in shot. Keeping the airframe a single colour, mostly black makes it easier to mask the aircraft out in post if required.
Keeping the operator out of shot
Unlike other forms of aerial video it is near impossible to keep the operator out of shot. One of the main reasons for this is that the pilot, by law must keep the drone in view at all times. This therefore requires some thought to the positioning of the flight personnel during recording etc.
Landing and taking off
As most video pods are attached to poles hanging low underneath the drone, landing the drone can be a challenge. Hand launch and landing is an option, or a specially designed landing support is the preferred method for safety reasons.
Powering the camera systems (normally GoPro)
Most camera pods will consist of six or more GoPro's, which are well known to be power hungry, especially if Wi-Fi control is enabled. It is therefore recommended that the GoPro's be powered from the drone's main batteries using suitable adapters and cable loom. There is nothing worse than one of the GoPro's shutting down in flight, or locking up due to a low or faulty battery.
Vibration
As will all cameras mounted to drones, vibration is a killer. "Jello" can be a real problem and a suitably designed vibration mount for the video pod is required. Hard mounting of the pod and mounting pole can eliminate the "pendulum" effect, but the video will be unusable. Therefore there is an optimum design of the mounting plate to comprise on this factor to get the cleanest possible video.
Lighting
Low sun or strong contrast days should be avoided for 360 degree video, especially aerial. The cameras pointing towards strong light sources will always be over exposed, even light is better for 360 videos, and for aerial work high sun position is preferred.
Camera Settings
All camera settings must be the same, settings are limited on GoPro's, but typically GoPro's will be set for 1440p, 48fps and Protune, and manual WB.
NADIR
Nadir in 360 videos refers to an area not shot completely and appears as a "black hole". Some 360 degree video pods on drones do not have cameras views facing upwards. This is acceptable where the subject matter is below the level of the drone, however when shooting architecture or visualisations such as fly through, then a full 360 view is desirable. For pods with no NADIR then the drone can be "painted out" in post with masks as required, or if required, client's logos inserted.
Camera Levelling / Gimbal
Unlike normal cameras there is no real need to level the 360 degree video pod with a gimbal. As video is recorded in 360, it is easy to level the horizon or view point in post-production.
Drone Control frequencies
If using the GoPro Wi-Fi remote to trigger the cameras and start and stop recording, then for safety reasons it is not recommended to use 2.4 GHz for control of the drone. (This is the normal control frequency for most drones). For UK use, 459 MHz is a much safer alternative, and has an added advantage that it does not suffer from issues such as multi-pathing in urban areas.
Video feeds
To enable framing and monitoring of the drones systems in flight, a flight camera and on screen display will be required. This is normally broadcast to the ground video monitor and pilot view using 5.8 GHz.
Editing and workflow
While some consumer cameras do the stitching on board the camera, others require that you use post-processing software. Programs like Kolor (acquired by GoPro), Video-Stitch, and PTGui are popular for stitching. At the time of writing this blog, Kolor would seem to have the edge with its Autopano Video Pro 2 software. This, coupled with Autopano Giga 4 for stitching and preparation.
Editing this spherical content will differ from other video projects, but once the footage is stitched together, you can use popular video editing programs like Adobe Premiere, Final Cut Pro etc. to edit and colour correct. The main difference is the creative process for editing. It is not assembling a sequence of shots to show an audience, but rather a 360-degree image that the viewer will have control over when watching. You have to keep this in mind from beginning to end, from brainstorming and storyboarding to shooting. The stitching and editing workstation needs to be very powerful and capable of coping with editing 4k+ video as well as the heavy rendering for stitching. Most of the stitching software available uses the GFX card more than the processor, and it pays to spend more in this area.
Viewing 360 Degree Video
Online
• Facebook: Now includes the ability to upload and view 360 degree video; playback requires a suitable browser such as Google Chrome; quality is lower compared to the viewer on YouTube.
• YouTube: Now includes the ability to upload and view 360 degree video up to 8K; playback requires a suitable browser such as Google Chrome. In reality, most viewers will struggle to view resolutions greater than 4K, unless they have a fast internet connection.
Mobile & Tablets
• IOS: Kolor offers a free player; most devices will playback HD; iPhone 6 is required for 4K playback.
• Android: Kolor offers a free player; most devices will playback HD; newer quad core smart phones are required for 4K playback.
• Desktop: Google Chrome, VLC Media Player and Windows Media also support 360 video playback.
As well as Tablets, PCs, Macs and Phones, 360 degree video can be viewed in VR headsets such as the Oculus Rift and Video domes.
Summary
Just like live streaming, virtual reality technology has been around for some time now. However, timing means everything when it comes to technology. With YouTube and Facebook investing in 360 video, both publishers and viewers will have the opportunity to distribute and 360-degree video content to the masses to watch.
Another reason we think aerial 360 video will take off, is that it does not require viewers to wear a virtual reality headset like it did in the past. While the headset option is there and promises a more immersive experience, the audience doesn't need to wear one in order to enjoy spherical video. This simplifies the viewing experience and maximises the audience as the potential viewers do not need to invest extra equipment to watch the 360 content.
You can expect to see more spherical video creation with the release of consumer priced 360 degree video cameras. This could be a huge factor given the popularity of photo and video sharing sites. That, in addition to the growth of high-quality smartphone cameras, drones, and GoPro style sports cameras, could make for a huge push in this new way of producing video.
About the authors: Sky View Video (Scotland) is a licensed and insured commercial drone operator based in the West of Scotland, UK. It provides aerial imaging and video services to TV, Media, and Video Production, as well as providing aerial surveying services. The company also specialises in aerial panoramic imagery including 360 degree video, having developed its own custom aircraft for this purpose.
www.SkyViewVideo.co.uk
More Aerial Filming Stories