Broadcast News
10/12/2015
The Pursuit Of Sound Perfection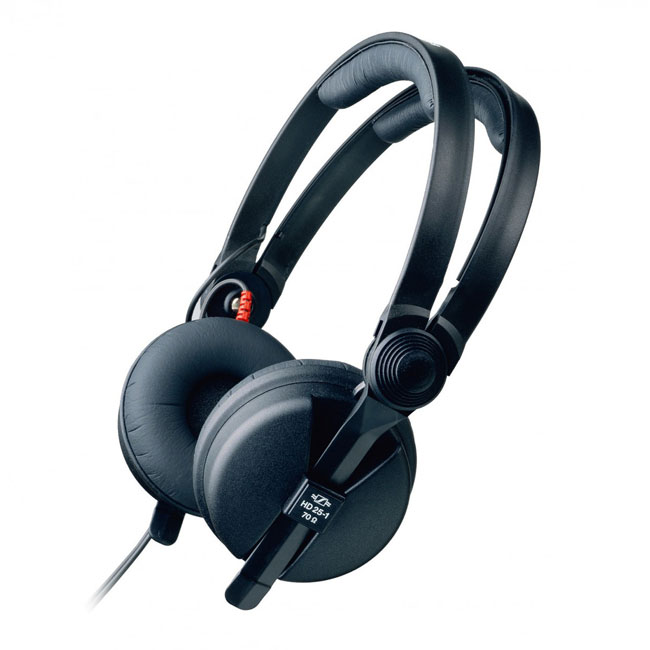 Headphones, one of the most important pieces of equipment for an audio engineer. But which is best? By Benjamin Malloy, Polkadot Audio Post Production.
Well, as I'm sure you know, different headphones have different qualities and suit different purposes. Some are purely made to look good when in use of public transport, whereas others are more focused on sound quality and durability for professional audio use. So where to begin? There's an overwhelming amount of headphones on the market to filter through and all have different qualities. A good place to start is to take a good look at the specs. Then it's all down to the sound quality and durability.
Here are some of the more popular headphone models on the market for audio professionals.
Sennheiser HD 25-II
Build Quality
Light, extremely durable and comfortable. Popular in the DJ and location sound recordist community for their durability and comfort. Most parts of the headphone (including band, ear pads, cable and drivers) are designed to be interchangeable so you can easily repair them if they break, which is very handy. These are supra aural, meaning they sit neatly on the face of the ear and still create a good sound seal from external noise.
Sound Quality
The sound quality is superb, the low end frequency response isn't overcompensated, a very true sound. Again these point towards the DJs and location sound recordists as for monitoring purposes, these are unrivalled. Industry standard for a reason. Sound reproduction is clear, even and powerful and the response range is phenomenal. I've never heard a bad review of these, and I know many people who rate the Sennheiser HD 25s as No. 1 on the market for multi-purpose use.
Best Use
These would be best for DJs, location sound recordists, or any kind of audio monitoring. Most mix engineers will have a pair of these in their bag. Even if you're a music fan looking for an all-round superb quality headphone, you can't really go wrong with these. When headphones deliver on exceptional sound, comfort and durability, they can be used across the board with no issues.
Audio Technica ATH-M50x
Build Quality
The Audio-Technica ATH-M50x are the consumer follow-up to the ATH-M50. These are heavy duty, strong headphones. If you're after portable headphones and don't mind them being a little large, you'd be remiss not to consider the Audio-Technica ATH-M50x. They come with various length, coiled and straight cables for different purposes. Very comfortable to wear and feel very secure and block out most external sound.
Sound Quality
The spacing really stands out, giving crisp hi end and deep thumpy, controlled low end that you'd struggle to find from headphones double the price on the market. They appeal to a very wide audience, they wouldn't be out of place in a studio vocal booth or DJ booth. I really feel that these deserve much more mainstream recognition as they'd rival some of the top end headphones for a fraction of the price. The enhanced sound really does make music sound amazing.
Best Use
These are best suited for home enjoyment, they really make listening to music fun. The bass depth is particularly useful for gaming and movies, where deep bass adds extra impact and they have a great stereo image. Also, great for DJs as they're powerful and have good sound isolation.
KRK KNS 8400
Build Quality
Surprisingly light and strong with comfortable closed ear design. The detachable cable is always a bonus, and often a feature for many studio and professional headphones. Having a volume slider is also a good idea as this would prove helpful if using them as foldback headphones in the studio. The engineer could set the slider to a centre position and then run a pretty good level to allow the user to set their own volume.
Sound Quality
KRK are renowned for studio monitoring loudspeakers. Do the headphones bring the same punch and power? With deep low end that isn't over exaggerated giving a clear and true sound and bright hi end, I'd say so as the sound is very open and transparent. There really is superb clarity in the top end that is rarely picked up by most headphones, being great for studio monitoring. I would definitely trust these for a secondary mix checking tool.
Best Use
As an affordable all-round pair of headphones, these can be used for the general music fan, studio monitoring, location sound, DJ or live sound engineer. They produce a really nice crisp, true sound that's so important when used in a professional environment.
Sony MDR-7506
Build Quality
I wouldn't say particularly strong, especially not compared to the heavy duty Audio Technicas. However they do have some really nice qualities, they can be really small and compact when folded up, and come with a nice carry case. For the very reasonable price they come at, they'd be great for a carry round back-up pair of headphones. It's essential for headphones to be comfortable to wear for long periods of time, and I could wear these for many hours with no problem.
Sound Quality
They have a good balanced sound with a more accentuated treble range. Great detail in the mid range frequencies with a tight low end and good stereo image. They block a reasonable amount of external noise, and no one nearby will hear much sound escaping this headphone.
Best Use
These are great for live recording or live mixing as they don't block too much external noise; I've heard many live mix engineers swear by them. For the very reasonable price they come at, they're surprisingly durable and could be used for a carry round back-up pair of headphones. The comfort and coiled wire would benefit many situations. These tick most boxes and are far better than most other headphones on the market at the same price. So if your budget isn't too big, don't worry, these'll serve you well.
www.wearepolka.com
(JP/LM)
More Broadcast Audio Stories