Broadcast News
29/09/2015
The Drone Shoot Workflow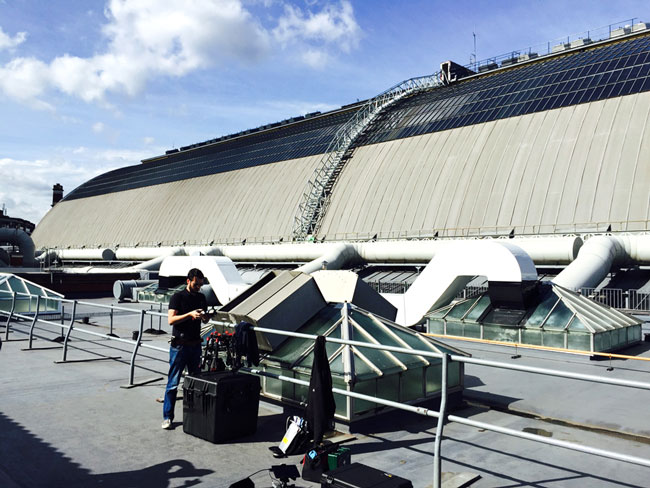 Drones or UAVs can capture shots which simply cannot be achieved by other means. For film and television shoots, stunning high resolution footage is easily attainable by an experienced and professional team, but there are many considerations to be taken into account. In this article, we guide you through the typical workflow when conducting an aerial shoot.
Pre-production
Perhaps even more so than with other aerial filming activities, broadcast shoots require extensive planning in order to run smoothly. The quality of footage must be outstanding and many people are usually present on location, so well before the director shouts action, certain checks need to be undertaken - ideally a few weeks in advance.
Certifications
The first thing to check is that your chosen drone company has their PFAW license for commercial work, granted by the CAA.
Insurance
Your drone company will need to have appropriate insurance in place when filming. £5m public liability insurance is a standard amount of cover and companies such as ours can extend this up to £10m if necessary.
Location scouting
You may have found the perfect rural filming location, but you must first check that you have permission to film there from the landowner.
If you want to film in congested urban areas, you will need to ensure you are at least 50 metres from other people, buildings and vehicles. If using a camera payload over 7kg, this is extended to 150 metres (though you can seek an exemption). Please note that filming in central London may incur additional restrictions.
Keep in mind that drones can legally fly up to 120 metres (400 feet) altitude and up to 500m horizontally from the take off point. They also have to remain within line of sight of the pilot at all times. Ensure you take these factors into consideration when choosing a location. For example, if planning a 360 flight around a building, bear in mind the drone cannot fly on the far side of the building out of sight of the pilot.
Certain areas have restrictions in place, such as airports, prisons, helipads and military installations and areas immediately surrounding them. Exemptions can and are granted, but often need to be resolved weeks in advance.
Safety and risk assessment
Safety is the most important aspect of any aerial shoot, so risk assessment is a vital part of the planning process. Thorough safety checks need to be performed, including a pre site survey, to ensure that no one is put in any danger. The drone being used should feature fail-safe 'auto-land' and 'return to home' modes, in the very unlikely event that a technical or operator issue occurs.
Production
Once you are sure you have performed all the necessary checks, you are ready to head to your filming location and begin capturing some footage, but as always with drone filming, there are certain important factors to take into account.
Weather and lighting
For many film and TV shoots, clear blue skies or golden 'magic hour' daylight is preferable in order to achieve the most beautiful images. Of course, in the UK this is not always possible, so it is advisable to keep a very close eye on the weather forecast. Rainy or snowy days are more or less out of the question, as are wind speeds of over 25 mph. In practice, 20mph is a good limit as beyond this it's hard get stable footage.
If you plan on shooting at night time, your drone company will require special permissions that are not granted as standard to licensed operators.
Flight times and speeds
Drones are fairly power hungry, so typically, batteries will need changing and charging frequently. In congested areas we can shoot for eight minutes continuously and in rural areas, for 16 minutes. We can and have brought a generator on location to allow continual charging of batteries throughout the day, so we can ensure we are able to film uninterrupted if needed. If in doubt, check your operator has enough batteries or charging facilities for the length of shoot you require.
Our drone can ascend at a speed of 13 mph (6 metres/second) and can fly at a speed of 35 mph (16 metres/second).
Members of the public
It's advisable to have a dedicated observer on the ground to check that the area is safe and free from interruptions. Cordoning off the area with special signs can assist in signalling to the general public that aerial filming is taking place. Clearly labelled high-visibility clothing can also help significantly but keep in mind that any crew wearing these types of garments will visibly stand out more if they are included in shots.
Post-production
Gaining access to the footage for post-production
Once the shooting is completed, it's important to remember to retrieve the footage from the drone company. Most drone operators will have their own high-speed memory cards which they won't be able to give to you, so bring a hard drive with you so that you can copy the footage to be taken away with you for editing and grading - a service which we can also provide upon request.
A final note
We can take care of all the considerations mentioned above, but if you have special requirements, such as shooting numerous locations in a day, at above 500 feet, or in a major European city, you may want to consider helicopter filming - a service that we also offer. Please contact us to discuss any questions you may have.
www.drone-air.com
More Aerial Filming Stories