Broadcast News
04/08/2015
It's All About Drones (UAVs)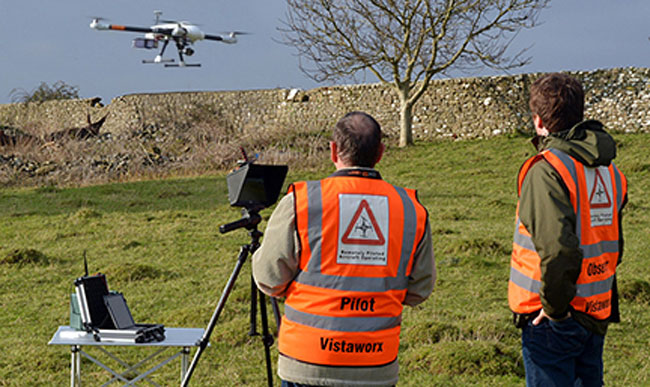 I'm sure most people by now have heard about drones and the impact they can have in military combat missions. However, the likes of myself and other professional, aerial aficionados who share the same interest, to use the term 'drone' is a big no, no. Simply because it has so many negative connotations associated with it, writes Howard Rockliffe, Vistaworx.
So, for the sake of myself and others who share my dislike of this overused and misunderstood word, I will continue by referring to our aerial friends as UAVs, or if you prefer, Unmanned Aerial Aircraft. There are also many alternative terms professional UAV operators like to use, such as RPA (Remotely Piloted Aircraft), SUA (Small Unmanned Aircraft) to name a couple. I guess we're simply a bunch of sensitive souls who like to be liked!
UAVs are here to stay, at least I hope so. As a professional operator, to say I am enthusiastic about them would be an understatement. Their potential is huge. The biggest problem I believe we have is to show people exactly what their benefits are. Because so many businesses and companies have never used such technology previously, then their use is not on the 'radar.'
Many professionals looking for aerial filming or photography have had, up until now, virtually only one option... a helicopter. No doubt, like in all businesses, hire rates vary, but I know that if you're hiring a helicopter for half a day you'd be unlikely to see any change out of £2,000 – £2,500. (No doubt someone will put me right.) So the option of hiring an aerial photography and filming company who use UAVs, such as Vistaworx,
has many advantages.
We take our flying very seriously, which is just as well, because contrary to what some people think, it's a very expensive business. The training alone, combined with the insurance costs and associated fees is enough to make a poor man cry. Then of course there is the cost of the UAV itself and all the associated peripherals and safety equipment that is necessary if you're going to operate as a CAA registered pilot.
After the individual has successfully passed their flight training, being registered with the Civil Aviation Authority is a compulsory requirement. There are currently two certifications that are recognised by the CAA; one being the RPQ-s and the other, the BNUC. Both involve intensive theory ground school work and a practical flight assessment. Some say it's overkill to have to undertake such extensive training, but from my perspective I think it's a good route. It certainly prevents anyone from taking on such a challenge unless they are really committed. I believe being committed is a prerequisite for anyone in this line of work. There's certainly no room for complacency, particularly in the air!
We currently fly a medium-sized aircraft that is very much in tune with the kind of projects that our customers require and offer 4K or 1080HD video and HiRes photography.
Many businesses can now take advantage of the benefits that UAVs offer, simply because of the relatively low costs involved with this kind of aerial film and photography work. Using UAVs for survey work brings a whole new chapter of opportunities for building surveyors. Real estaters, architects and building maintenance companies are just another few who can benefit enormously. Then there are insurance assessors, wind farms, solar panel fields, farm crop management, pre-planning surveys etc. The only barrier is one's imagination!
Operated correctly and in the proper hands, the UAV is a wonderful tool for many of today's businesses. Its mobility, relative ease of use, efficiency and cost effectiveness surely makes it an admirable contender for one of the 21st Century's most sought after vehicles.
Remember though, when you ask, don't say drone, say UAV!
www.vistaworx.co.uk
More Aerial Filming Stories