Broadcast News
09/06/2015
Education and Industry Engagement: Mind the Gap!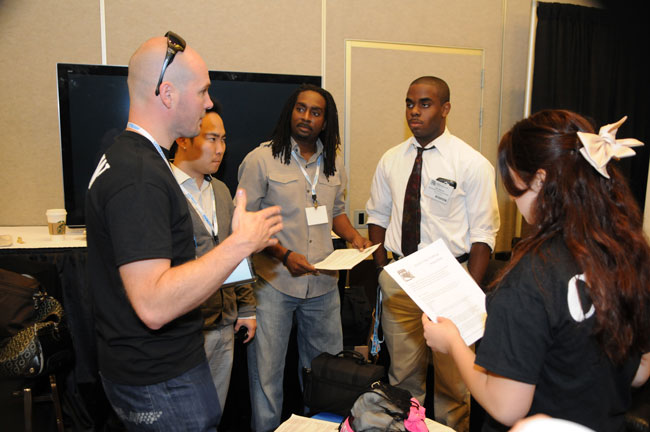 By Richard Welsh, SMPTE Governor for EMEA and Central & South America Region and CEO at Sundog Media Toolkit.
As a member of SMPTE, I am frequently reminded of the importance of our "three pillars" – membership, standards and education. For me, education always stands out because our membership and standards define who we are as an organisation, while education defines what we will become in the future. SMPTE has a broad view of education that includes our conferences, professional development programs and, of course, our support of students and the establishments that teach them.
Our professional development and conference programs grow stronger each year, with the establishment of valuable new conferences such as the SMPTE Forum, held this past May in Berlin, as well as the expansion of programs through our welcoming into the fold the Hollywood Professional Alliance® (HPA®) and their unparalleled Tech Retreat conference. It is in the area of student engagement that we have seen real growth over the past few years, thanks to a number of student support programs. SMPTE Membership Vice President Bill Miller challenged the Membership to fund the first year of a student's membership. The Student Membership Challenge, as it is called, encourages contributions from SMPTE Members so that students are able to become SMPTE Members free of charge for their first year. On top of this, SMPTE has ramped up its student-specific activities to bring exciting and valuable opportunities aimed at engaging the next generation of engineers and pioneers in our industry.
At the SMPTE Annual Technical Conference & Exhibition, held each year in Hollywood, we encourage local university-level educational institutions, such as Los Angeles City College (LACC), to have their students participate in a student video project. Many students relish this opportunity to attend the conference and conduct interviews with the delegates. This is a great occasion for the students to receive hands-on experience, and also to network with professionals from all parts of our industry. It was at the annual conference that I first met students and educators from LACC.
LACC has a vibrant SMPTE Student Chapter formed by an impressive group of highly motivated and talented students and advisors. The Chapter, led by cinema and television instructor Vincent R. Ybarra, regularly engages students with the industry and attracts all the right attention as a result of their efforts. Nothing demonstrates the importance of these close ties more than the recent $2 million (USD) donation pledge by the Hollywood Foreign Press Association (HFPA) to the LACC Foundation for the institution's Cinema and Television Department. This donation is the largest ever made by the HFPA, outdoing the organisation's previous high of $350,000 to The Film Foundation. This incredible sum will go towards providing state-of-the-art postproduction, studio and theatre facilities at the college, as well as supporting all important scholarships.
I remember very well the importance of contributions from industry during my own time at university. I was lucky enough to study on the media technology degree at Southampton Solent University, and at that time we had whole studios built from donated equipment from the likes of the BBC and ITV. Just as important was the continued engagement of those companies with our teaching staff and the students themselves.
Much has been made of the perceived skills gap in the industry as we move to a more information technology (IT)-centric space, and also of the lack of appropriate, capable graduates. However, with educational establishments and government pushing to close this gap, we need to look now at how we as an industry engage with universities and colleges. Nothing is more important than being as proactive as possible in communicating the challenges and direction of the industry. This flow of information into education feeds the shape of the programmes that turn out the graduates we want to attract into the industry. The cold hard fact is that talented coders leaving university aspire to work for the likes of Facebook and Google, and maybe to starting their own unicorn company. It's not that our industry lacks excitement, but there is definitely an increasing need for broader education of the public so that they understand what it takes to get great images and sound to the consumer.
Therein lies another strong reason to participate in student engagement, particularly the rich networking environment of SMPTE local Section meetings, events and conferences. As an industry, we need to ensure that talented graduates from a wide range of disciplines are enthused to seek positions in the area of media and entertainment technology. By fostering engagement with specific universities and by establishing and supporting student chapters, we drive the interaction of industry and education and extend the breadth and depth of talent who become aware of opportunities to help create and deliver the great content that is at the heart of what we do.
With emerging technologies such as virtual and augmented reality (VR and AR), it is important for organisations such as SMPTE to lead the charge in bringing education to the industry while engaging with those already working in emerging technologies in the media space. This effort contributes to our knowledge base, standards work and membership. SMPTE has been exploring VR/AR at all our recent conferences, and we again will focus on VR by giving the full-day SMPTE Symposium entirely over to the subject during our SMPTE 2015 Annual Technical Conference & Exhibition (SMPTE 2015) in Hollywood this coming October. Most exciting though, is the SMPTE-HPA Student Film Festival, also at SMPTE 2015 in October. This great new initiative, supported by Sundog Media Toolkit — we provide the SMPTE Digital Cinema Packages for the screenings — builds on last year's SMPTE Student Film Showcase. This year, the event is bigger and better and includes a VR/AR category. This clearly demonstrates SMPTE's commitment to emerging entertainment technologies, as well as the next generation of artists who will bring those technologies to life with their creativity.
For more information on SMPTE's student programs, visit
www.smpte.org/students
.
Image: Richard Welsh (left) Interacts with students at the SMPTE Annual Technical Conference & Exhibition.
This article is also available to read at BFV
online
.
(JP)
Top Related Stories
Click here for the latest broadcast news stories.