Broadcast News
06/04/2018
SMPTE To Have Big Presence At 2018 NAB Show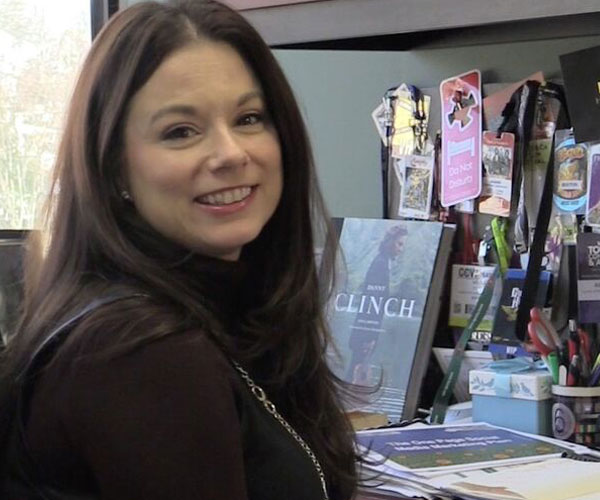 SMPTE's presence at the 2018 NAB Show will be difficult to miss. Approximately 260 SMPTE Sustaining Members will exhibit at the show, and more than 50 SMPTE Members will participate in the 2018 NAB Show conference sessions. SMPTE Members also will take part in the 2018 NAB Show's Future of Cinema Conference, produced in partnership with SMPTE, and in the IP Showcase at the 2018 NAB Show.
This year the Future of Cinema Conference will be held in the Upper South Hall meeting rooms on Saturday, April 7, and Sunday, April 8. In examining the future of movie-making, the conference will explore shifting models and opportunities for monetisation and delve into hot topics such as next-gen cinema, high-dynamic-range (HDR), and immersive media (AR/VR/MR).
During the conference, 15-year-old Helen Ludé, daughter of Past SMPTE President Peter Ludé, will present a study of viewing habits of "Gen Z: The YouTube Generation". SMPTE Member Michael Zink, vice president of technology at Warner Bros., will produce the session "Getting Ready for Next Generation Cinema", featuring Ronan Boitard of Barco/MTT Innovation, Gary Feather of NanoLumens, and Jon Karafin of Light Field Lab, Inc. SMPTE Fellow Annie Chang, vice president of creative technology at Universal Pictures, has organised a session — "Do Androids Dream of Making Movies?" — that will explore the application of artificial intelligence and machine learning for content creation. Britta Wilson, vice president of inclusion strategies at Pixar, will host a session titled "Diversity & Inclusion in the Cinema Workspace". Further sessions will focus on HDR, location-based entertainment, and the techniques and technology used to capture immersive images. Conference session details and registration are at
nabshow.com/education/conference/future-cinema-conference
.
The Society also will join the Audio Engineering Society (AES), Alliance for IP Media Solutions (AIMS), Advanced Media Workflow Association (AMWA), European Broadcasting Union (EBU), IABM, Media Networking Alliance (MNA), and Video Services Forum (VSF) to support the IP Showcase. Dedicated to educating visitors and highlighting the business and creative benefits of IP, the popular event will provide a unified, industry-wide view of the latest advances in IP technology and how they benefit the broadcast industry. The showcase will highlight engineering progress and feature real-world examples of IP applications from leading networks and program producers so that broadcast/IT engineers, CEOs, producers, and others can better determine how they can effectively leverage the recently published SMPTE ST 2110 standards documents. More information about ST 2110 is available at
smpte.org/st-2110
.
While industry education is the central focus of conference sessions and the IP Showcase, SMPTE also will offer networking opportunities at the NAB Show. Students are invited to room N222, in the LVCC North Hall, from 4:30 to 6 p.m. on Tuesday, April 10, for a social mixer — an ice cream social — with SMPTE Members, including SMPTE Board of Governors Members, directors, Section leadership, and staff, who will discuss their work in the industry.
Visitors to the SMPTE booth in the Upper South Hall Lobby (booth LSU4) will have the opportunity to view "The Honor Roll and Honorary Members of the Society of Motion Picture and Television Engineers", a limited-edition book that showcases the past century's industry leaders and innovators, and the newly released "Magic & Miracles: 100 Years of Moving Image Science & Technology", a richly illustrated and meticulously crafted history of the Society and its groundbreaking work over the past century. Attendees can purchase these books at the NAB Show store or online at
magic-and-miracles.org
.
SMPTE staff will be available to discuss current trends and answer questions about SMPTE activities, resources, and publications, including the latest "SMPTE Standards Quarterly Report", which details the outcome of the March 2018 SMPTE Technology Committee meetings that took place at SMPTE Headquarters in White Plains, New York. This is the first time in history that the TC meetings have taken place at the SMPTE home office. The report summarises the current progress of SMPTE committees that are working to create, approve, revise, and remove standards for the industry and is available at
smpte.org/outcomereport
.
The Society also will feature the award-winning SMPTE Motion Imaging Journal. Copies of the April 2018 "UHD/HDR/WCG" issue will be available in the booth. SMPTE staff also will be available to provide further detail about the Society's recent publication of video — more than 50 expert paper presentations — from the SMPTE 2017 Annual Technical Conference & Exhibition on its YouTube channel:
youtube.com/smpteconnect
. The technical papers themselves are available within the SMPTE Digital Library hosted on the IEEE Xplore platform at
library.smpte.org
.
While NAB Show attendees will learn a lot about SMPTE from its extensive participation in various educational and networking events, they also can gain further information about the Society at
smpte.org
.
By Aimée Ricca, Marketing and Communication at SMPTE
This article is also available in the April edition of Broadcast Film & Video.
Top Related Stories
Click here for the latest broadcast news stories.