Broadcast News
28/05/2015
Tiffen Delivers First Steadicam M-1 Rig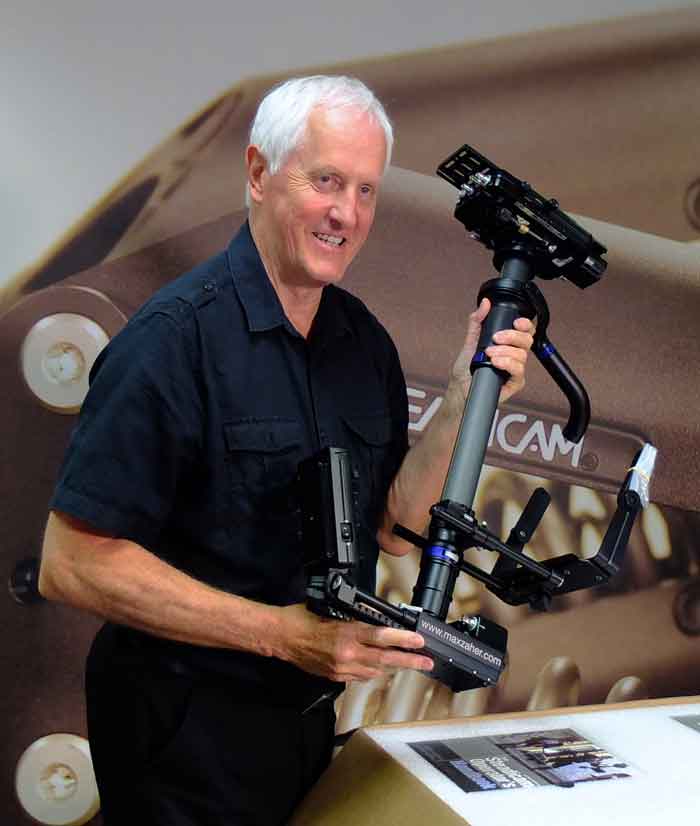 Tiffen International in the UK is celebrating the delivery of the first Steadicam M-1 rig which has been ordered by German Steadicam operator Max Zaher.
Steadicam inventor and Academy Award recipient Garrett Brown, ASC, is in the UK to celebrate the 35th anniversary of 'The Shining' and took the opportunity to inspect the first M-1 prior to delivery. Garrett is in the UK after teaching in a week long Steadicam training course on board the iconic 'Queen Mary' in Long Beach, California.
Max Zaher is currently shooting a film on location and unfortunately won't be able to get to the UK to receive the rig personally. Max is a rising figure in the German film and television industries as a Steadicam operator/cameraman.
"I've worked for two years with the Steadicam rig of my mentor, Klemens Becker, and also rental rigs, but I've now decided to buy my own rig. Having worked with many different sleds, arms and vests, I knew what I was looking for. Light, easy to build and quick to configure or change mode. It should be modular so I could exchange parts myself on the road if it became necessary. I wanted it to be tool free and have many types of connectors for add-ons. At CINEC I had a good opportunity to compare many different rigs. The M-1 felt very good right away and was by far the best combination of the things I needed."
The M-1 is the result of seven generations of experience, innovation, engineering skills, technological advances and invaluable feedback and input from the users who have made Steadicam the valued production tool it is.
It's the strongest and most robust Steadicam of all. The 'M' stands for modular, and this is the most modular Steadicam ever. You can start with the simplest post and upgrade later to the full rig.
The new M-1 camera stage is built around strength and high load precision with centre drives for superior rigidity with an optional vernier fingertip tilt adjustment – no tools needed.
The G-70x Elastic Arm is highly durable, performance adjustable, and offers smooth operation with a huge 70lb. lifting capacity and a 29" boom range. You can move it from lowest to highest position with very little effort.
The vest of choice now for many is the Fawcett Exovest™, designed by Steadicam operator Chris Fawcett. With a pivoting exoskeletal structure the Exovest offers a huge leap forward for operators with unrestricted movement, on-the-fly adjustability, with a user-friendly design which is also female friendly. Now the Steadicam operator can walk and move more naturally while shooting.
www.tiffen.com
(CD)
Top Related Stories
Click here for the latest broadcast news stories.