Broadcast News
22/04/2015
Band Pro Munich, Thameside TV Named European Distributors Of The Year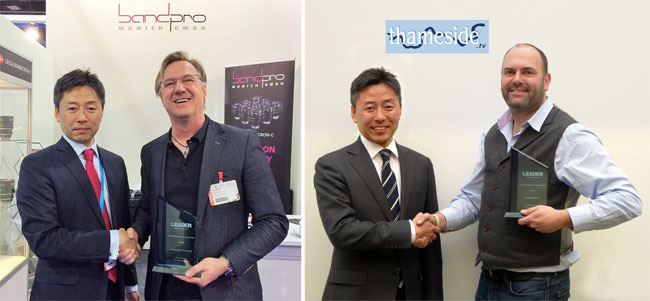 Leader Instruments Corporation has named Band Pro Munich GmbH and Thameside TV as joint winners of Leader's 2015 European Distributor of the Year Award. The awards are in recognition of outstanding sales achievement over the past 12 months.
"Band Pro Munich GmbH and Thameside TV have proved consistently energetic, enthusiastic and highly successful Leader distribution partners for many years," says Koichi Fukagawa, Market Development Manager, Europe, Leader Instruments Corporation. "Both companies have an excellent understanding of the broadcast industry's needs combined with an impressive client base."
Significant recent sales in Germany by Band Pro Munich GmbH have included a large number of Leader LV7770 3G multi-SDI rasterizers including eye-pattern and jitter measurement plus Dolby Digital options. These were supplied in two separate projects to German public-service broadcaster ZDF at its Capitol News Studio in Berlin.
"Leader test equipment is very highly regarded both in the broadcast and digital film production business," comments Band Pro Munich GmbH Senior Sales Manager, Martin Kreitl. "Its early move into the 4K arena was particularly welcome as the industry heads into the demanding world of ultra-high definition content creation and post-production. 4K can deliver fantastically high quality but only if high signal quality is maintained from initial capture right through the refining and editing phases. Upscaling also needs very special monitoring to ensure that defects in an SD or HD original are not accentuated by the inherent clarity of 4K display screens."
Notable recent sales in the UK by Thameside have included LV5330 and LV5380 test instruments to 4K London, LV7770 rasterizers to CTV for its OB 11 outside broadcast vehicle and LV5380 series multiscreen waveform monitors to Soho-based Suite TV.
"Leader fully lives up to its name as a technology innovator in the field of broadcast test and measurement and digital signal analysis," adds Thameside TV Sales Director Chris Margrave-Gregory. "Leader products are highly reliable, easy to operate and robustly built. These qualities are appreciated at every point in the program production, editing and playout chain.
"The LV5333 3G/HD/SD-SDI portable waveform monitor has proved especially popular with production crews for whom Leader's intuitive CINELITE II and CINELITE ADVANCED software ensures accurate camera adjustment during live shooting. We are also seeing growing interest in the 4K market given the rapidly increasing affordability of UHD television receivers. Leader's LV5490 test instrument is ideal for today's UHD/HD/SD world, for checking the quality both of source signals and transcodes."
Image: Martin Kreitl (Band Pro Munich GmbH) and Chris Margrave-Gregory (Thameside TV) receiving Leader 2015 UK Distributor of the Year Awards from Koichi Fukagawa (Market Development Manager, Europe, Leader Instruments Corporation).
www.bandpro.com
www.thameside.tv
www.leaderamerica.com
(JP)
Top Related Stories
Click here for the latest broadcast news stories.