Broadcast News
26/03/2015
Vizrt/Reality Check Systems Collaboration Announced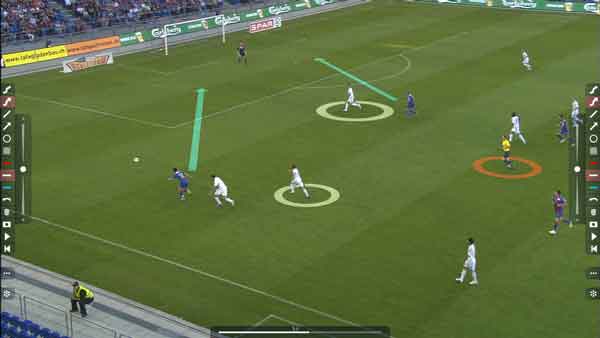 Vizrt has joined forces with Reality Check Systems (RCS) to offer customers an integrated workflow between Viz Libero 3D sports analysis software and RCS's LaunchPad touchscreen solution.
Providing on-set access to Viz Libero clips in LaunchPad's touchscreen monitor, the integration allows presenters to engage fans with real-time sports analysis.
The latest version of LaunchPad - now compatible with Viz Libero - will debut at NAB 2015. Viz Libero clips and related metadata that are copied to LaunchPad automatically appear in a touchscreen menu, allowing operators to select a desired clip and control playout. Presenters can also add telestration graphics that maintain the correct perspective of the pitch. This means that when users highlight movement or specific player actions, graphics will always be positioned correctly on the field.
"Viz Libero offers a wide range of 3D analysis tools that will bring the sports program to a new dimension," said Stephan Würmlin Stadler, executive vice president of sports for Vizrt. "Combining this integration with its newly added automatic player tracking, the Viz Libero system can turnaround analysis clips in seconds and quickly prepare it for a LaunchPad touchscreen session to be presented by an on-screen analyst. LaunchPad is easy to use, very powerful and this combined solution addresses a variety of individual preferences for interactive sports shows."
"Our history of collaboration with Vizrt dates back to its inception and we've worked closely with their engineering team since. They understand virtual enhancements and interactive graphics applications at a deep level. This makes Vizrt an excellent partner for this LaunchPad integration," said Jeff Heimbold, vice president of business development, RCS. "We're thrilled to unveil Viz Libero compatibility at NAB, which brings LaunchPad users advanced 3D analysis capabilities that add significant value to their sports coverage."
At the 2015 NAB Show In Las Vegas, Vizrt and RCS will provide hands-on demonstrations of this new integration on the Vizrt Booth SL2417.
www.realitychecksystems.com
www.vizrt.com
(IT)
Top Related Stories
Click here for the latest broadcast news stories.