Broadcast News
13/02/2015
root6 To Unveil Number Of UK Firsts At BVE 2015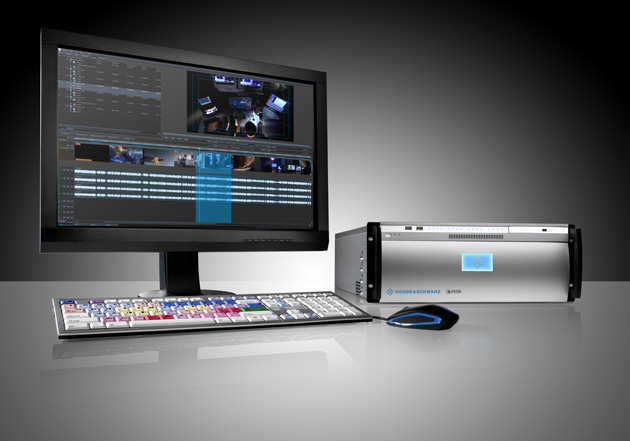 'Work Smarter' is the theme of the root6 exhibit, where the integration of up-to-the-minute creative technologies from leading vendors will be deployed to illustrate substantially streamlined postproduction.
A number of important new technologies will get their UK debut on the stand, which will highlight the hottest industry topics from 4K and UHD working, through IMF packaging to DPP deliverables.
The latest offerings from Avid will be featured including version 8 Media Composer supporting 4K workflows. The system will be demonstrated with Baselight grading and Slate compact control surface. 4K material finished on the Media Composer will be round-tripped to the next generation of Rohde & Schwarz DVS Clipster for high speed Digital Cinema Packaging (DCP). Focusing on file-based delivery, Media Composer will also be seen as part of a workflow with root6 Technology's AMWA accredited ContentAgent.
No UK reseller has more experience with Avid Interplay|Production, the central hub designed to streamline content creation workflows. Since its introduction in 2006, the management system has considerably expanded capabilities and become a key component in many facilities.
Described as "Avid's most revolutionary, but best kept secret," Interplay|MAM Foundation will be shown for the first time at a UK Trade Show. Simply put, Interplay|MAM Foundation is the most efficient and economical way to streamline essential media operations and archive. root6 will be working closely with Avid in 2015 to bring MAM Foundation to the attention of mutual customers.
ContentAgent, root6 Technology's file-based workflow and automation system, will be much in evidence on the stand at BVE, where it will be shown highlighting two new features focused on ingest and deliverables. CardAgent, a new multi-user application for automating camera card workflows in ingest intensive environments like news, sports and reality shows will be demonstrated.
The latest enhancements to ContentAgent's AS-11 UK DPP workflow automation capabilities will be demonstrated including the important timesaving achieved with the new Insert Edit and Metadata Update features.
As in previous years, the root6 stand at BE will be shared with Rohde & Schwarz, which will be demonstrating the latest versions of DVS Venice, Clipster and Spycerbox. Again, visitors to the show will have the opportunity to experience features and products not previously seen in the UK.
R&S Clipster, the fastest uncompressed 4K and UHD editor on the planet, handles uncompressed 4K DPX files as well as the newer UHD – 3840 x 2160 – formats effortlessly. Seen at BVE will be the latest iteration, Gen6, with still further accelerated performance. Clipster is the choice of Hollywood studios when they create the new IMF package – a file-based deliverable that companies like Netflix and others now expect to receive from post houses.
R&S Venice is the most flexible and reliable network-controllable disk recorder currently available, providing cost-effective real-time two (or four) channel video or file ingest to every file format used by content creators. Venice will ingest and check-into Avid Interplay with bullet-proof growing file support. The recently released Venice Play option will also featured.
Making its UK debut, Spycerbox CELL is the densest content production SAN in the world and is part of Modular Media Storage offering from R&S. Spycerbox CELL fits 30 disks in a single rack unit and can provide up to 3GB per second of fully redundant shared bandwidth as a fiber channel StorNext SAN or as a 10Gb/40Gb connected NAS at the same time.
It's a real game-changer so do drop by the stand and marvel at the brilliant engineering that has created a jaw-droppingly cool product. If you need capacity and power in a small amount of rackspace then the Spycerbox Ultra TL is for you.
A number of complementary technologies to further streamline operations and increase productivity will also be featured on the root6 stand including eMAM, Front Porch DIVA, Flavoursys Strawberry and Mellanox high performance switching.
The article is also available to read in
BFV online
.
(IT/JP)
Top Related Stories
Click here for the latest broadcast news stories.