Broadcast News
09/01/2015
More Glue Or Fewer Pieces? (Part 1)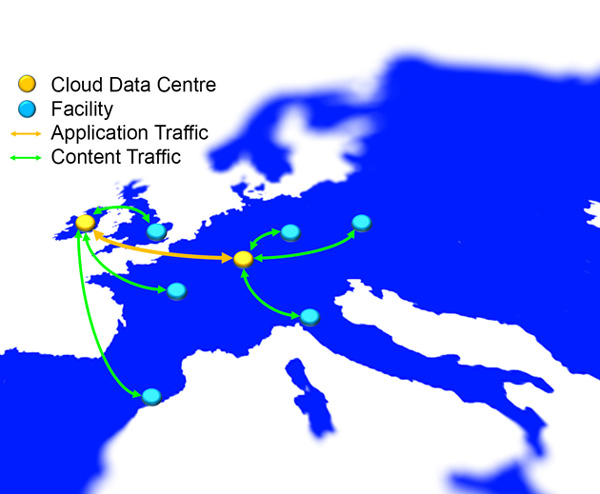 How do we take the real-time demands of broadcast and post infrastructure and connect them to the information technology (IT)-centric world of file delivery and web based services to the consumer? By Richard Welsh, SMPTE Governor for EMEA and Central & South America Region and CEO at Sundog Media Toolkit.
In the UK, the introduction of the Digital Production Partnership (DPP) technical requirements as of October of this year saw all the major UK broadcasters move to a standardised, file-based delivery. The February release of the Netflix original series House of Cards, in ultra high-definition (UHD), followed by a re-release of Breaking Bad in UHD demonstrated how an online media service could be truly disruptive: UHD content, no broadcast required – just download or stream (if you have the connectivity). This is a perfect example of exactly how the integration of IT technology with media enables rapid change and almost demands constant innovation.
Meanwhile, SMPTE's Interoperable Master Format (IMF) made significant progress and we seem to finally be on the edge of widespread adoption of this mezzanine for postproduction. Chris Fetner, director of global content partners operations at the aforementioned Netflix, announced during IBC that IMF is being adopted as its format for creating content deliverables for its subscribers. Fetner also spoke in detail about IMF in his keynote at the SMPTE 2014 Annual Technical Conference & Exhibition. He explained that cloud storage, SMPTE Timed-Text and IMF are critical enabling technologies that well position content providers to move assets to streaming platforms. According to Fetner, Netflix sees IMF as an essential cornerstone to its global expansion as it provides the most flexibility to optimise the experience to its subscribers.
SMPTE members may view Fetner's keynote online at smpte.org/smpte2014-netflix-keynote.
Fetner is also slated to deliver the keynote at the SMPTE Forum 2015 'Entertainment Technology in the Internet Age: A European Perspective', produced in partnership with the Fernseh- und Kinotechnische Gesellschaft (FKTG) with collaboration from the EBU's Technology and Innovation department. The two-day seminar is scheduled for 7-8 May 2015 at the Fraunhofer-Forum in Berlin.
This year, SMPTE published the long awaited Archive Exchange Format (AXF) standard, an open format that is already described as fundamental to many of today's cloud and IP transport-based preservation services. Many more projects and standards developed in 2014 bring elements of next generation workflows closer to reality. The Cloud Project at the Entertainment Technology Centre (ETC) at the University of Southern California, completed its first end-to-end test from camera to screen.
The Advanced Media Workflow Association (AMWA) continues to push forward with its Framework for Interoperable Media Services (FIMS). SMPTE has continued its work as a founding member, along with the European Broadcasting Union (EBU) and Video Services Forum (VSF), of the Joint Task Force on Networked Media (JT-NM).
Now with some 250 members, JT-NM brings together manufacturers, broadcasters and industry organisations (standards bodies and trade associations) to drive development of a packet-based network infrastructure that supports the creation, storage, transfer, and streaming of professional media. Meanwhile, an Indiegogo crowd funded project recently raced past its target to fund the development of MOX, an open source image file format for professional, cross-platform audio, and video movie production.
Hold on, what?
Yes, another file format for motion imaging workflow. Do we need it? One answer is of course, yes, if there's a perceived shortfall in what exists already – at least enough to convince content creators and post-production houses to invest their own money into developing it. On the other hand, it's yet another file format. That means more plug-ins, application development, and transport considerations like encryption – more 'glue'. So the question may generically be: when building the media systems of the future do we ultimately need fewer pieces or more glue?
Taking a step back for the moment, let's look at the current challenge: In the mix we have today, any number of elements don't always play well together. Whether it's handling live broadcasts in an IP-only infrastructure, juggling the format demands of new consumer technology against existing pipes, or navigating the security and rights challenges of the internet for delivery – these are non-trivial issues that create the complexity of solutions we see today.
Sometimes it feels like a glue and sticking-tape approach, especially when integrating completely new systems not envisaged when the existing infrastructure was designed.
From here we see further breaking down of any one of these elements into further component options, and then we attempt to consider how to join them together effectively. This is where the options expand exponentially.
The article is also available to read in
BFV online
.
(IT/JP)
Top Related Stories
Click here for the latest broadcast news stories.