Broadcast News
07/11/2014
Square Box Systems Signs Exclusive Agreement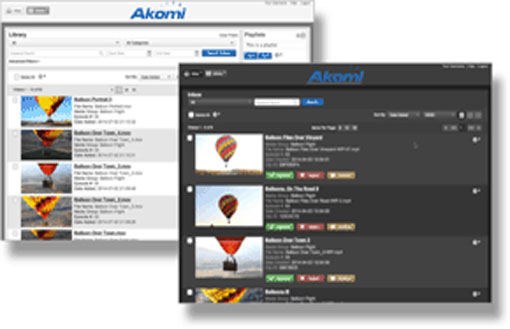 Square Box Systems and North Shore Automation have signed an exclusive global sales agreement.
Under the new agreement, Square Box Systems is the exclusive worldwide sales partner for North Shore Automation's Akomi media asset distribution platform, which is compatible, and easily-integrated, with Square Box Systems' award-winning CatDV digital asset management systems.
Akomi is a private web platform that provides a simple and secure way of interacting with, and publishing, video, audio and other media formats used in digital content creation and distribution. Akomi integrates seamlessly with CatDV systems, enabling the secure web distribution of CatDV assets and metadata to large groups of non-production users.
While CatDV 11 is a production-oriented digital asset management system, and CatDV Web 2 shares assets across the enterprise, CatDV with Akomi enable assets to be distributed outside the enterprise – for example, across large multi-national corporations.
Over the last four years, Akomi has been successfully deployed by television productions, corporate video departments and post service providers, including: Vin Di Bona Productions, the company behind America's Funniest Home Videos; the NUVOtv cable television network; plus Adsmith and Digital Cut Inc., which host a corporate video library for a division of farm equipment manufacturers John Deere.
Akomi features a simple, intuitive user-interface that can be custom-branded, and is compatible with all browsers, as well as leading tablets and cell phones. While being simple to use, Akomi provides powerful administration tools that enable media teams and other users to search and browse media assets.
Akomi's ability to share cuts for review and approval, and make content available to anyone, reduces turnaround times as well as needless email and phone calls, and eliminates the time-consuming and costly dispatch of tapes, DVDs or drives.
In a typical workflow, CatDV assets are imported automatically into Akomi, and metadata changes from Akomi instantly write back to CatDV, keeping the entire management process in sync. Akomi runs on Mac, Windows and Linux, hosted on private servers, or a variety of cloud systems. It can be integrated into a range of flexible workflows with media assets always protected by high-security firewalls.
www.squarebox.com
www.northshoreautomation.com
(CD)
Top Related Stories
Click here for the latest broadcast news stories.