Broadcast News
04/11/2014
GatesAir Enables IP Transition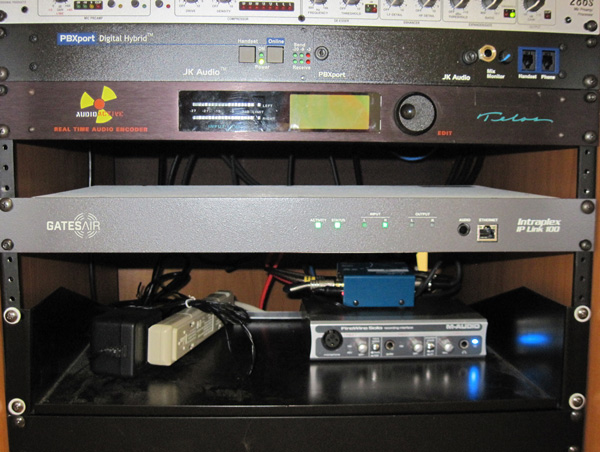 GatesAir has enabled a low-power FM station in North Carolina to transition to an IP transport architecture for studio-to-transmitter link (STL) connectivity.
Using the company's Intraplex IP Link, the networking solution solved the challenge of efficiently moving program audio and data over a studio-to-transmitter path that offered no line of sight for traditional fixed RF STL connections.
WRLY-LP in Raleigh made the switch following its studio relocation to more accessible commercial space. As RF STL links were impractical for such a small studio, transitioning to IP proved the most budget-friendly option.
The IP Link includes support for the emerging Ogg Opus audio codec. GatesAir was the first broadcast codec adopter of Ogg Opus audio coding, which incorporates technology from the Skype-developed, speech-oriented SILK codec and CELT, a low-latency, next-generation music codec.
"I'm very budget-constrained as a low-power station. IP was readily available, more cost-efficient than an enterprise T1 solution, and eliminated the challenges of erecting rooftop structures in a commercial zone," said Steven White, owner of WRLY-LP.
"I was an early adopter of voice over IP technology, and had been monitoring the capabilities of Opus from an audio quality perspective. Much of our music library has been encoded in high-end formats, so I needed a codec that wouldn't over-compress the audio and develop artifacts in the stream. GatesAir was the only codec supplier that built Opus into the feature set, and since there was no extra expense for Opus, the overall costs remained low. The flexibility of the IP Link and its software-driven features struck the right balance of features, cost and quality."
WRLY benefits from built-in redundancy that shares IP packets across a dual-path stream. Called Dynamic Stream Splicing, the feature allows the primary stream to borrow data from the secondary stream in the event of dropped packets en route to the transmitter.
"The IP Link provides excellent statistical information that show if, and where, packets have dropped," said White. "The dual-path architecture of the IP Link ensures that instances of dropped packets that make it through are very, very rare, and never noticeable on the air. The reliability is exceptional."
"Intelligent networking solutions are proving their value for broadcasters across all power levels, as radio stations large and small recognize the cost- and operational benefits of transitioning audio and data connectivity to IP," said Joseph Mack, vice president of sales, Americas.
"Our low-power customers like WRLY are building a networked foundation that begins with simple STL connectivity, and opens the door for advanced contribution and distribution applications thanks to a scalable and cost-efficient architecture."
www.gatesair.com
(IT/JP)
Top Related Stories
Click here for the latest broadcast news stories.