Broadcast News
22/09/2014
Autoscript Launches E.P.I.C. 19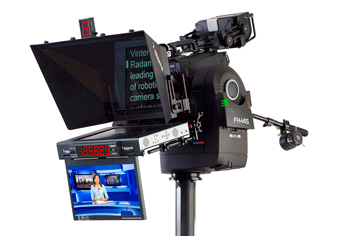 Autoscript has launched E.P.I.C. 19, its 19-inch Enhanced Prompting Information Centre. The E.P.I.C. 19 has been developed for use in large studios that have a requirement for a smart system to display prompter text.
It features dual SDI inputs as standard; one for the prompter monitor and the other for the talent monitor, and an integrated tally light. By combining both monitors in the same system, the E.P.I.C. 19 is more lightweight.
"The E.P.I.C. integrated solution brings added versatility and functionality to studio operations," says Robin Brown, product manager, Autoscript.
"In addition, the system is energy efficient due to the high-bright LEDs, and the long life of the prompting screen ensures durability and long term cost savings."
The E.P.I.C. 19 features inputs for both LTC and VITC and can display time code and tally functions via Autoscript's ClockPlus-E and TallyPlus-E. 
"We will also be releasing the TallyPlus-E at IBC. It displays the camera number and tally state, and clips into place on the front of both the 17 and 19 inch E.P.I.C. models. It requires no external power or cabling, taking all its data internally via the E.P.I.C., to further simplify the prompting system," Mr Brown said.
www.autoscript.tv
(IT/CD)
Top Related Stories
Click here for the latest broadcast news stories.