Broadcast News
14/04/2014
Surviving Archiving: Tips Of The Trade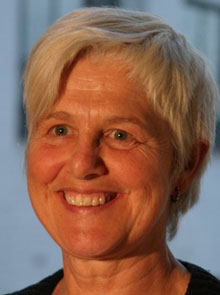 RFV presents an Interview with Joan Leese, Director of VET Post production and Training. VET provides archive and back-up services to production clients and also works at a meta level around good practice with institutional partners and within a European Project Presto4U.
RFV: How do Production Companies need to think about their back-ups and archive?
JL: Let's think about back-up as production security during the production and post process, and archive as the storage of assets after programme delivery for future retrieval. 'What?', 'why?' and 'how?' are the key questions to ask; the answers to 'what?' and 'why?' will determine your options for 'how'!
Like all good, robust systems, this needs planning; ideally in the context of the production company's priorities and existing systems.
But in the face of tight production budgets and timescales, it's very often a last minute afterthought and frequently carried out by junior staff who may, or may not, know the production.
The key questions you should consider are:
• What, if anything, do you really need to archive?
• How is it going to be accessed/ retrieved?
What should we archive?
Firstly, check your contract as you may be bound to archive production assets once your programme is delivered.
Secondly, consider why else you might need to archive production assets. Does your programme or rushes have potential value for re-sales, re-purposing, as potential archive sales or historical/cultural value? Does your client have expectations that you are the repository for their A/V materials and assets?
First step: decide on three criteria: are you legally required to retain? Do you want to retain? Or delete? The latter seems the hardest decision for anyone to make, but we can't just endlessly keep everything with all the attached costs.
So a cost/benefit exercise is advisable?
Yes absolutely. It is a cost to back-up and archive media, and an ongoing cost to maintain it. There is an initial investment in time and resources to identify what assets will be archived and what will be deleted (make the decisions mentioned earlier). Then to scope, buy or build and implement a library or archive system takes time and skills and a clear head. All retained assets need to be logged and labelled in a meaningful way (let's come back to metadata later) if they are going to be found again when needed. Without this the exercise is pointless. Once in place, it is an ongoing budget line whether you are running an internal or external solution. Costs can include: storage, hosting, refreshing, migrating, floorspace, administration, upgrades, updates, energy, security.
So are we just archiving media files?
No. Production 'paperwork' needs archiving, both physical and electronic. This will include research, transcripts, translations, related permissions, broadcaster or client contracting, budgets, legals, possibly PDFs of email history, and probably much more. Unique hard copies can be scanned and added to the archive.
What media files should we retain?
Final delivered programmes of course and review files connected to sign off stages. Rushes need to be considered – from camera and any separate sound recordings. Will you retain selects or everything? Depends on the shooting ratio and the likelihood of re-visiting it.
The edit: some companies retain the edit media as well as the rushes. Others retain simply the edit project and recall and re-ingest the elements from archived rushes if needed. Remember the non-rushes assets such as VFX, graphics, logos, and stills too.
Sound: keep the final project from the dub, and exports of final sound and stems. Consider retaining the media too. Again, this will depend on your assessment of whether you'll need to re-visit it. Perhaps the cost of keeping it will outweigh the conform costs to bring it back on line from rushes.
So what is a good system that will ensure assets can be retrieved?
There isn't a one-size-fits-all solution. Depending on scale, you may be able to do what you need in terms of a catalogue with good Excel or database organisation. Remember to establish a robust link between your catalogue and your asset storage. Your editing facilities (internal or external) may be a good place to start as it is often in the edit that assets are ordered, named and culled. In Avid or Adobe you can create systems that provide robust logging and recall.
Affordable solutions and open source solutions do exist but generally need customising, so require some time and skills. Several companies provide consultancy and specify or customise solutions. Archiving is a specialist skill and may be worth the investment in an expert service. Some companies are backing up to LTO confidently but are now faced with shelves of LTO tape without a robust system for identifying what's on them. Investment in more sophisticated systems provides automation and verification, as well as report logs down to file level that can be integrated into database/library systems. They allow direct access to files rather than a longer process of restoring whole tapes. A good complement to hard drives and/or cloud.
What about the cloud?
The industry seems to be warming to the idea of Cloud back-up/archive services. The perceived risks are security (privacy), lack of control and dependency on internet access.
Using an external service, whether cloud or not, relieves the production company of the IT and organisational responsibility of their archive. I consider the Cloud a good secondary back-up. Retaining all assets in the Cloud as well as in the production company makes good sense. It can be as simple as using Google docs, or check out one of several services that are customised to our industry.
The article is available in the online edition of RFV
here
.
(IT/MH)
Top Related Stories
Click here for the latest broadcast news stories.