Broadcast News
10/04/2014
G-Technology Launches New 'STUDIO' Line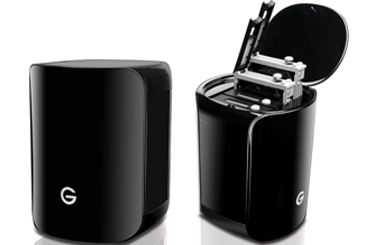 G-Technology, a leader in delivering premium storage solutions for audio/video production, photography and the creative professional market, today announced the first products in its new Studio line – the G-RAID Studio and G-SPEED Studio.
Continuing G-Technology's popular design legacy, the Studio family comes in new high-quality, sleek black enclosure for today's high-performance computers and workstations.
The Studio line features multiple RAID options, removable enterprise-class 7,200 RPM drives, 20 gigabits per second (Gbps) Thunderbolt 2 interfaces, and the industry's highest capacity 6TB hard disk drives (HDDs) for pre- and post-production workflows.
G-SPEED Studio
The G-SPEED Studio with hardware RAID is a four-bay Thunderbolt 2 storage solution that supports user selectable RAID 0, 1, 5 and 10 for ultimate flexibility and speed.
With its built-in RAID controller, the G-SPEED Studio is not tied to a single workstation and can be easily transported and used on a Mac® laptop or desktop in the studio, edit bay or on the road.
The G-SPEED Studio boasts sustained transfer rates of up to 660MB/sec in RAID 0 and can be daisy-chained via dual Thunderbolt 2 ports. This G-SPEED Studio solution ships with four removable enterprise-class hard drives, designed to support multi-stream compressed 4K and 2K workflows.
In a RAID 5 (data redundant) configuration, the G-SPEED Studio RAID can easily handle up to 30 hours of 4K footage in ProRes 4444 and can seamlessly edit three streams of compressed 4K.
The G-SPEED Studio with enterprise-class hardware RAID will be available in May for an MSRP of £2,699.95 for 24TB, £1,999.95 for 16TB and £1,649.95 for 12TB.
G-RAID Studio
The G-RAID Studio is a high-performance storage system with hardware RAID, enabling digital content-creation workflow. User-selectable in RAID 0, RAID 1 or JBOD, the G-RAID Studio features Thunderbolt 2 technology and has transfer rates up to 360MB/sec for editing high-resolution photos or multiple streams of compressed 2K and 4K projects.
The G-RAID Studio ships with two removable enterprise-class 7,200 RPM hard drives for total capacities up to 12TB, complete in a sleek black enclosure. The G-RAID Studio will be available in May for a MSRP of £949.95 for 12TB, £649.95 for 8TB and £529.95 for 6TB.
"From lightning-fast transfer speeds to modern designs, we've approached our Studio series with the needs of today's editors, photographers, filmmakers and musicians in mind," said Mike Williams, vice president and general manager, G-Technology. "The Studio series is built to handle the demands of 2K and 4K workflows, and represents the next level in our constant evolution to better support professional workflows with performance, style and reliability."
G-Technology
Top Related Stories
Click here for the latest broadcast news stories.