Broadcast News
14/08/2017
New Glyph Atom SSD & Atom RAID Portable Storage At IBC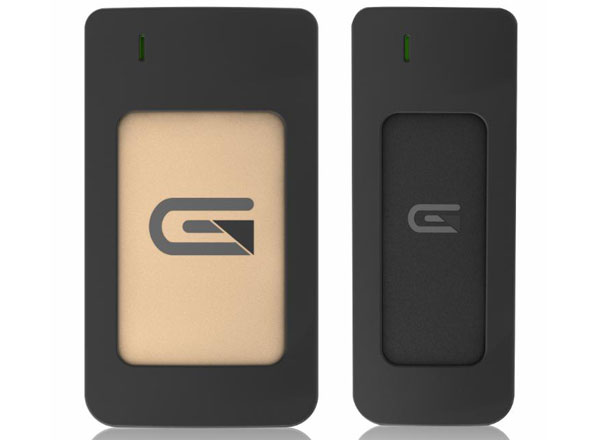 Glyph Production Technologies has announced the addition of a new ATOM SSD and ATOM RAID to its series of portable data transport and storage devices. These external drives couple elegant design and rock-solid reliability with lightning fast transfer speeds—making them a sound solution for backing up, storing and transporting clips.
Glyph CEO Liran Shachi, said: "With the proliferation of higher resolution formats including 4K UHD, ample digital storage is even more essential. We designed the Atom SSD and RAID drives especially to handle the massive amounts of data and tight timelines common for cine, broadcast, photo, and audio production."
The new Atom drives are all fully compatible with MAC OS X 10.4+ and Windows Vista+. They feature the latest USB-C (3.1, Gen 2) connection and are backwards compatible with USB 3.0 and Thunderbolt 3. The solid-state drives also provide fan-less heat dissipation for a long, quiet life. With clean lines and elegant design, they resemble the sleek profile of a smart phone. Each comes in a choice of black, grey, gold or silver and includes a form-fitting rubber composite shell for extra protection and sure handling.
At 1.88" wide x 4.8" long x .59" thick, the palm-sized Glyph Atom SSD is deceptively compact yet packs loads of data. Users can choose from 275GB, 525GB, or a full terabyte with speedy transfer rates up to 480 MB/s.
For those requiring even greater speed and capacity, the Atom RAID SSD is Glyph's fastest solid-state drive ever. It combines a capacity up to 2TB with speeds reaching 860 MB per second. At 2.7" wide x 4.8" long x .59" thick, it also easily fits into the user's pocket. Available in 1TB or 2TB, every unit features two RAID-0 SSDs.
Glyph Atom drives come set-up to go right out of the box pre formatted with HFS+ with Journaling and Time Machine ready. A quick reformat makes them fully Windows compatible. All Atom SSDs and Atom RAIDs come complete with both a USB-C to USB-C (3.1) cable, and a USB-C to USB 3.0 cable.
Atom drives are designed, assembled and thoroughly tested in the USA. They feature Glyph's industry-unique 3-2-1 Warranty that includes full replacement for three years with overnight replacement in the first year, Level One Data Recovery for two years and Advanced Data Recovery for the first year.
glyphtech.com
Top Related Stories
Click here for the latest broadcast news stories.