Broadcast News
14/03/2014
A Dark Reflection Nears Completion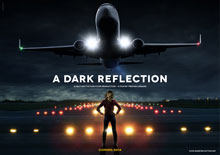 Tristan Loraine, Director/Producer of the upcoming feature film A Dark Reflection, has been discussing the challenges and opportunities afforded one the shoot.
The film is being made as a co-operative initiative, which means that cast, crew, suppliers, supporters, and cash investors are committing their time and resources in exchange for shares in the film.
A Dark Reflection has completed all filming except for one key scene. Filmed in southern England and in Jordan, the film is the last feature shot on Fuji 35mm film stock.
Mr Loraine said: "To shoot a film with actual 35mm film has given us a picture quality that surpasses anything digital can produce in my view. Now we are looking to cast the part of the vital and key final scene to be filmed. The part of Captain David Morris aged 45-50. Hopefully the film teaser we released today, will attract a leading actor to step forward and play the role and help make air travel safer for everyone."
The film has depended on over 1000 people, from editors to actors to key industry support.
Senior Assistant producer Sarah Holloway said: "The industry support to bring the issues in the film to the screen have been remarkable. Companies like: Arri Media, i-Dallies, Hurricane Sound, Filmscape Media, Helicopter Filming Services and Deluxe to name a few.
British born actress Georgina Sutcliffe, a 2001 RADA graduate, plays the role of the lead lady, a journalist who discovers one of the biggest cover-ups in aviation history when she starts to ask questions, after her air traffic controller husband is suspended following a serious in-flight incident. As her investigation progresses, she discovers a trail dating back to 1954.
For further technical information about the film please contact the production team:
Tristan Loraine -
tloraine@adarkreflection.com
/ +44 7968213862
Viv Young - Screenplay
vivyoungscripts@yahoo.co.uk
/ +44 7730 513862
www.adarkreflection.com
(IT)
Top Related Stories
Click here for the latest broadcast news stories.