Broadcast News
17/05/2019
UWL BA Film Production, Final Film Showcase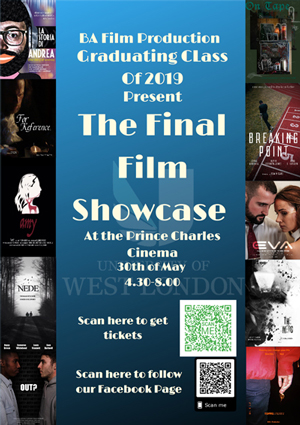 On the 30th of May at Leicester Square, the film production students from the University of West London are screening their final films. These films are a celebration of their three years of studying. A chance to display their talent in a cinematic environment, with each of the films covering different genres, styles and concepts.
There are ten films in total, which will be screened one after the other at the Prince Charles Theatre, this event is a great way for everyone who worked on, helped and created these stories to meet each other and share ideas and experiences. We would also like to invite anyone who comes to the showcase to come and join us afterwards for drinks downstairs at the Curzon. This is a great opportunity for the groups to network with the actors and family members from all the groups.
There are two documentaries, the first documentary of the night is one about a man with Amyotrophic Lateral Sclerosis or ALS, reborn through his passion for music. The second documentary of the night is the story of a sister who is paying tribute to the graffiti career of her late brother and explores his influence on her own style. These two incredibly made documentaries are guaranteed to bring a tear to the eye.
These are the only two documentaries this year, so will be opening the event. As well as a wealth of fiction stories; ranging from a superhero hero story about a well-known mercenary distances himself from his family, until he is drawn out by an old enemy holding a close friend hostage, to a thriller about a world war that has destroyed all major cities across the world, two brothers seek refuge in a desolate forest away from the affected areas.
There is also a film about an AI robot who will rethink her existence after a dinner with her sociopathic owner's friends.
Even though these films are ten minutes in length they tackle a wealth of issues that our graduating students wanted to focus on. The students have taken their themes from films they had seen in the cinema. Watching these films gave the students inspiration as to what they could add to the industry. As a result, these films are able to highlight the truth that these creative minds can see.
We hope you can join us for this event.
www.uwl.ac.uk/careers-service/welcome
Top Related Stories
Click here for the latest broadcast news stories.