Broadcast News
12/03/2014
Agama To Showcase At TV Connect 2014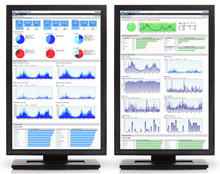 Agama Technologies has announced it will be showcasing the latest extensions to its offering for continuous and real-time monitoring, assurance and analytics of IP, cable and OTT video services at TV Connect 2014.
Highlights will include fully integrated support for assurance of personalised advertising, further strengthened network monitoring density and "the market's most complete support for OTT and multiscreen service assurance".
The Agama DTV Monitoring Solution provides full transparency of video service distribution from the head-end to the viewing device. It supports TV operators' business processes, across departments and workflows, with actionable insights that help to proactively manage service quality while lowering OPEX.
Agama will reveal several new extensions to its solution, such as fully integrated support for monitoring SCTE-35 Digital Program Insertion (DPI). Agama DPI capabilities enable operators to deploy personalised advertising with confidence.
Also showcased at the show will be the new Analyzer NET-800 with high-performing and capable multi-gigabit monitoring in head-ends and across distribution networks.
Agama will also declare its commercial deployments of multiple new OTT client integrations, including deployments on PC, Android and iOS devices, as well as on more OTT set-top boxes.
"This, in combination with enhancements across the complete OTT product range, strengthens Agama's position in offering the market's most complete support for assuring OTT and multiscreen deployments end-to-end, from service creation to end-customer consumption," a statement from the company said.
"In today's competitive video service market, we see a growing demand for operators to increase both revenue and organisational efficiency," explains Johan Görsjö, Director of Product Management at Agama Technologies. "This can include new business models, such as personalised advertising; or providing more attractive services in the form of multiscreen and increased channel counts - whilst at the same time delivering such services in the most cost-effective way.
"Agama is proud to provide truly business-supporting solutions for this; and, to work with many leading operators in multiple aspects of their operations and service management. The extensions that we highlight at TV Connect further strengthen our offering for assuring all parts of the delivery chain."
Agama is showcasing its complete solution for end-to-end video service assurance at TV Connect in London on March 18-20, 2014. For a live demonstration of cutting edge QA for IP, cable and OTT video services and to learn more about the Agama DTV Monitoring Solution, visit stand 95.
www.agama.tv
(IT/JP)
Top Related Stories
Click here for the latest broadcast news stories.