Broadcast News
20/02/2014
Wireless Finesse: Sennheiser's 9000 Series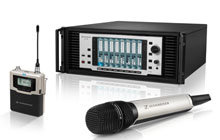 There can be little doubt that 'convergence' is the buzz word of the moment when it comes to broadcast technologies. Substantial growth in the usage of smartphones and tablets means that consumers can now digest broadcast content very differently to how they did just five years ago, writes Alan March, Product Management - Pro Division & Head of Spectrum Affairs, UK
No longer are we tied to the external antenna-fed TV set in the front room of our houses, at a particular time of day, in order to catch a particular programme. Catch up TV and programme content on the web and across mobile networks has changed the way broadcast content is consumed forever.
But, before content can be consumed, it has to be made. Increasingly, larger and larger wireless microphone and in-ear monitor systems are being deployed helping to produce dynamic, exciting content that helps to keep viewers watching. Content production today, without the use of wireless systems, would be unthinkable, yet we may have to think the unthinkable if current trends in spectrum policy are permitted to develop unchecked. But, more of that later.
Sennheiser have been the wireless supplier of choice to the broadcast sector for decades. Sturdy build quality and rock solid RF performance are just two of the features that have ensured that Sennheiser wireless equipment has been, and continues to be, relied on daily by broadcast professionals.
Sennheiser's range of wireless equipment is extremely diverse and can meet the needs of everyone; from the videographer recording audio at a wedding, to the sound supervisor looking after the audio on a TV show that will be broadcast to millions. Mainstays of many a broadcaster's wireless microphone arsenal are Sennheiser's 3000 and 5000 Series products. The SK 5212 II body-pack transmitter, in particular, is a favourite bringing lack of size - meaning that it's easy hide - to the desirable features list. Team it up with the EM3732 II receiver and add superb sound quality to the mix. However, in 2013, Sennheiser broke the mould.
Launched in the UK at the prestigious Victoria & Albert Museum, Sennheiser's 9000 Series represents the company's first step into the digital wireless microphone arena. Unsurpassed audio quality, achieved through a lack of any type of audio signal companding, results in a wireless system that, for the first time, can truly rival the sound of a cabled microphone. Additionally, deploying multiple 9000 Series channels digitally takes the headache out of frequency planning. With analogue systems, careful calculations need to be made in order to avoid intermodulation problems. With 9000 Series, RF carrier channels can be stacked up at regular intervals without fear of intermodulation between transmitters. This is simply not possible with analogue systems.
Flexibility is also another key word when looking at 9000 Series. The SKM 9000 hand-held transmitter can be fitted with up to 12 different types of microphone capsule, including two from legendary mic manufacturer Neumann, offering audio engineers unparalleled choice to meet the needs of artists, performers and presenters. Four of these capsules have been developed specifically for the 9000 Series and feature an advanced shock mount system that reduces handling noise to virtually zero.
The accompanying EM 9046 eight channel receiver is tuneable across the entire UHF TV band - from 470 to 798 MHz - leaving behind the days when different sets of equipment would need to be deployed in order to operate in different areas of spectrum due to their limited tuning ranges. And this ability to 'see' as many frequencies as possible will become ever more important as time moves on.
For more than 40 years, professional wireless microphone users have shared the UHF TV band (formerly 470 – 854 MHz, now down to 470 – 790 MHz) with broadcasters, fitting multiple channel wireless microphone systems into the TV bands that are not being used locally to deliver broadcast content. However, the UHF TV band is being eyed jealously by organisations who want access to it in order to launch new services, namely mobile broadband, delivered by the IMT (International Mobile Telecommunications) sector. The 800 MHz band - which includes Channel 69, the old nationally available TV band for wireless microphone use - has already been lost. This is where mobile companies will be rolling out 4G services.
Not content with that, the IMT sector also now wants access to the 700 MHz band (694 – 790 MHz) and much work is going on internationally to ensure that their aims are met. Indeed, they have recently started 'discussions' on the future of the whole UHF TV band, which could result in the death of DTT (Digital Terrestrial Television) completely. No DTT, no interleaved frequencies, equals nowhere for multi-channel wireless microphone systems to be deployed, unless alternative frequencies outside of the UHF band are identified and allocated to PMSE (Program Making and Special Events - a generic term used to cover wireless mics, in-ear systems, talk-back and wireless audio links). This is why organisations such as BEIRG (British Entertainment Industry Radio Group) and APWPT (Association of Professional Wireless Production Technologies) exist – to try to ensure that in changing times, the future for wireless microphones is assured.
In conclusion, next time you decide to watch TV on one of the convergence platforms, give a little thought as to how the audio was collected. Chances are it was wirelessly. But, for how long? You, dear reader, are urged to join one of the above organisations, if you value the future use of wireless audio tools.
Read the article in the online edition of RFV
here
.
(IT/JP)
Top Related Stories
Click here for the latest broadcast news stories.