Broadcast News
05/06/2013
To Build Or Not To Build?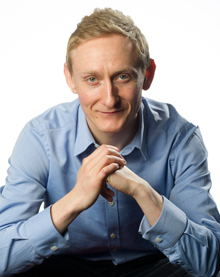 Trickbox TV's Director Liam Laminman on how building your own in-house studio can save money in the long run...
Ever dreamt about having your own in-house studio? Well, it might not be such a far-fetched idea…
No longer are television studios reserved for broadcasters and news organisations. For production companies, having the ability to produce your own programmes in-house is an attractive option. Not only are there cost savings but it also aids workflow and the 'convenience factor' is undeniable. So how do you go about getting hold of your own in-house studio? Well, let's look at space first. Are you lucky enough to have a vacant area in your premises?
At Trickbox, we've converted meeting rooms, offices and basements into studios; even large corridors! You might not want to lose that meeting room but, remember, if you turn it into a studio you can monetise that space. Of course, then there are the costs attached with building a studio. It's all very well assuming you can save money by doing everything in-house, but is it more cost effective? I mean, who wouldn't want their own studio?! But let's be realistic – there will be a fairly large upfront cost.
Even if you finance all the equipment – which we'll come back to later – there's still going to be the cost of the build and the infrastructure. Plus, all the M&E (mechanical and electrical) services, such as aircon and power need to be considered. However, those costs can be recouped if your need for a studio is great enough.
An indicative example of an average cost of hiring a multi-camera, crewed, studio in London can be anything from £3,000 to £10,000 (+ VAT). Let's say you're hiring a studio once a week, every week for £5,000, that's £240,000 over a year. And that's just one year…
So what about all that expensive equipment you're going to need to kit out your new studio? The last ten years has seen the cost of broadcasting and webcasting equipment reduce dramatically, despite the paradox of technology advancing. As well as lower cost, video equipment is now more compact and can offer more features than before. Vision mixers – often the heart of any studio – are a lot more affordable these days.
One of the big areas where you might have to spend is on your cameras. The size of the studio and what you're planning on using it for will dictate how many you need, and also what type. Will you want remote control cameras or traditional studio cameras? Do you need your studio cameras to double up as location ENG cameras when they're not being used?
Over recent years the cost of broadcast cameras has reduced or, to be more accurate, a wider range of lower-spec broadcast cameras have hit the market, all of which come with attractive price tags. Cameras such as the Sony HDC-1500 and its newer replacement, the HDC-2500, are a mainstay of the broadcast studio industry. In the studio and OB world, these fibre-based cameras come as full camera channels including CCUs and RCPs. But at £75,000 for a complete channel, that's not going to fit in everyone's budget.
Recent years has also seen a rash of lower-spec, more compact studio cameras come onto the market. Manufacturers like Panasonic and JVC make some cost effective studio camera channel solutions. Even Sony make a range of studio camera systems –aimed at smaller production companies, corporate firms and the events and AV market. These camera systems are perfect if you're thinking about an in-house studio. They're still broadcast quality, but they don't have as many features as their more expensive counterparts. If you're building a small in-house studio then you probably don't need a camera system that runs on fibre cable (which can run for miles). You probably also don't need to shoot slo-mo or at 50 frames progressive! 
So how are you going to pay for it? If you're lucky enough to have some spare cash under your pillow, then great. But if not, leasing and financing could the way forward. That may sound a bit scary, but it's really no different to taking out a mortgage - no one usually buys their house outright! The only difference is that a mortgage is usually spread over a long repayment period. When you finance equipment, specifically broadcast equipment, it's usually over a relatively short period of time, often three years.
It's also worth noting that any broadcast equipment you finance is eligible as part of your annual investment allowance (AIA)
So it looks like that in-house studio dream could be a reality.
Call Liam Laminman at Trickbox TV on 0207 193 9722 to see how we can help.
Read the article in the online edition of Regional Film & Video
here
.
Top Related Stories
Click here for the latest broadcast news stories.