Broadcast News
20/12/2013
'Movin' On Up' With Avid's S3L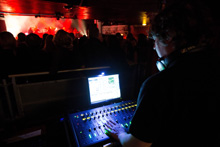 For Primal Scream's latest tour, Front of House engineer Michael Brennan was tasked with having to fit his kit into a small trailer to be pulled across Europe and on to Japan for a flying visit before returning to the UK for the tour's final dates.
Brennan approached Avid about using an alternative solution - specifically its new S3L live sound system.
"I wanted to use the S3L on this Primal Scream tour for several reasons," says Brennan.
"I knew that its sound quality is second to none and because of the compact size of the board and the stage-boxes, I would be able to fit it into the trailer. Additionally, the show file I had already created on my VENUE was compatible with it, so I was confident the transition would be simple.
"It's perfect for a small club tour and because of the S3L's modularity and networked Ethernet AVB architecture, the setup time is so quick, plus it's really easy to scale up if you need to," explains Brennan.
"I can set up a 64-channel desk, 48 lines of stage-box and a 128 channel, 75m Cat5e multi in around ten minutes. If you add in its space saving size, it's just awesome! I couldn't have taken a board on tour if it wasn't so small and modular. I've had to carry this one in a Transit van, splitter, truck, car and plane, and it's been really easy to move around."
He continued: "Avid is the industry standard for live sound. They're available globally and I've never had one fail, despite having mixed over 700 shows on the system.
"The advantages that you get with using Avid live systems over rival digital consoles are superior sound quality, functionality and reliability, and all within a compact footprint. There's a great choice of awesome plug-ins, plus comprehensive support and back up. These benefits are fundamental for audio consistency on any tour and make for a great mixing experience.
"I can bring an extensive system that takes up little room on the truck, where space is at a premium, and on the smaller tours, thanks to the S3L, I'm now able to take my own board and have it in a van. It's also reassuring that I can call on Avid's worldwide support network and spec a board locally, so we can save money on shipping costs, which can really add up over the duration of a tour. I can't think of a territory where I haven't been able to source a Mix Rack, Profile, SC48 or S3L and I'm comfortable using any of these systems as my show file is compatible with all of them."
On Primal Scream's 2010 Screamadelica tour, Brennan recorded every show on Pro Tools, and was then able to mix a live DVD in stereo and 5.1 formats using Avid's industry-standard DAW.
"The compatibility of Pro Tools with the Avid Profile surface made this a simple process, and I was even able to mix it on the Profile surface as I already had the song mix dialed in," he said.
www.avid.com
(IT/JP)
Top Related Stories
Click here for the latest broadcast news stories.