Broadcast News
12/03/2014
Avid S3L® Expansions At Prolight + Sound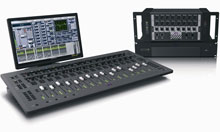 At this year's Prolight + Sound show in Frankfurt, Germany, Avid has already announced an expanded AAX live sound plug-in platform for the Avid S3L® system.
Avid S3L users will now be able to choose from a wide range of plug-ins from Avid, as well as the world's most respected developers including Crane Song, McDSP, and Sonnox.
Avid S3L drives AAX plug-ins directly on an HDX-powered processing engine. By supporting industry-standard Pro Tools® plug-ins, Avid live systems enable engineers to select the best plug-ins to suit their needs.
"With its unique capabilities and growing plug-in platform, Avid S3L is quickly becoming the console of choice for users requiring a compact, no-compromise system that can meet the toughest challenges," said Sheldon Radford, director of product management, live systems and consoles at Avid.
"Avid S3L gives live sound professionals the greatest flexibility to choose the right plug-in for the job. The plug-ins appear within the VENUE software and are fully integrated within the session file and snapshots. This provides the best possible user experience without the need for additional hardware or management."
"Partnering with Avid helps ensure that we stay at the forefront of industry innovation when it comes to delivering high-performance plug-ins for the live sound industry," said Colin McDowell, CEO/CTO at McDSP.
"Together, AAX and VENUE offer live sound professionals the perfect integrated processing solution, so we're delighted to be able to bring our range of plug-ins, including our 6030 Ultimate Compressor, to the Avid S3L system."
The company will also be showcasing the Dugan-VN16 Option Card, which brings automixing capabilities to Avid SC48, FOH Rack- and Mix Rack-based live sound systems.
The card automatically detects active mics and adjusts volumes accordingly, minimising feedback, comb filtering, and background noise.
Avid will be joined at the show by live sound engineers Stefan Holtz and Michael Brennan. Holtz has toured with established German acts including Die Toten Hosen and Marius Müller-Westernhagen, while Brennan is well known for his work with Faith No More, Mogwai, and Primal Scream – having mixed the latter on their recent tours of Europe and Japan using Avid S3L.
Mr Brennan said: "Because of the S3L's modularity and networked Ethernet AVB architecture, it's perfect for a small club tour as the setup time is so quick, and it's really easy to scale up if you need to.
"I can set up a 64-channel desk, 48 lines of stage-box and a 128 channel, 75m Cat5e multi in around ten minutes. I've had to carry this one in a Transit van, splitter, truck, car and plane, and it's been really easy to move around."
Avid S3L will be on show in the Avid stand G40A in Hall 8.0 at Prolight + Sound, which runs from 12-15 March 2014.
www.avid.com
(IT/JP)
Top Related Stories
Click here for the latest broadcast news stories.