Broadcast News
10/12/2013
Sennheiser Enlists Help For Office Design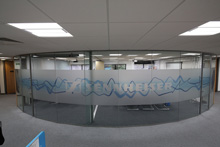 Sennheiser UK has unveiled a newly-designed office in Marlow completed with the help of five students at Buckinghamshire New University.
Century Point's 6,000 sqft of office had more than reached capacity therefore Sennheiser UK moved to its new 15,000 sq ft home in Marlow, Buckinghamshire earlier this year.
BA (Hons) Spatial Design and Graphic Arts students at the University in Queen Alexandra Road, High Wycombe, came up with designs for the new Sennheiser UK office in Globe Park.
"Students tackled a design challenge to make the new offices for Sennheiser UK look more distinctive and convey their core business to people who use and visit the offices," commented Alison Shreeve, Head of School - Design, Craft & Visual Arts.
"This was a live, challenging task for the students and it is fantastic to see some of their proposals become a reality."
Natalie Parkins, studying BA (Hons) Spatial Design, said: "Sennheiser is a very professional, global company which gave us all clear brief on the designs it was looking for to illustrate its slogan of 'science of sound'. I was thrilled to see my designs become a reality."
"This project showed the importance of working with industry and also of working with other departments at the University. It was valuable to see the approach and packages used by the Graphic Arts students. It has altogether been a very worthwhile and positive experience."
The chosen designs were by Bucks New University students Jenny Brodie, Joe Burgess, Alice Goad, Katy Needham and Natalie Parkins.
High Wycombe based design & print agency Exposure helped turn the students' designs into a reality, completing the install in November 2013.
Phil Massey, General Manager at Sennheiser UK said: "The University's partnership agreement with Sennheiser UK had initially focused on opportunities in Audio and Music and Film and TV Production but this project has demonstrated the wider range of possibilities that have emerged allowing students to further develop their creative skills within industry sectors."
www.sennheiser.com
(IT/JP)
Top Related Stories
Click here for the latest broadcast news stories.