Broadcast News
23/04/2014
Sennheiser UK Talks Camouflage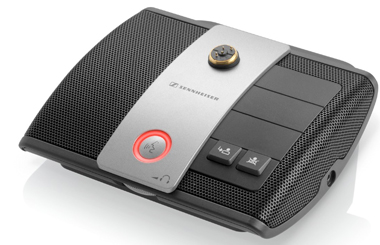 Wireless conferencing and camouflaged loudspeakers will be the emphasis for Sennheiser UK at this year's PLASA Focus, with Sennheiser's ADN-W and Speech Line systems, and K-array's new Khameleon loudspeaker wraps all making their first UK appearance.
ADN-W
Launched at ISE earlier this year, Sennheiser's ADN-W is the hybrid wireless extension of the successful ADN conference system.
ADN-W is the wireless component of a hybrid solution that enables the combination of wired and wireless components. This allows existing ADN wired systems to be easily expanded by adding ADN-W components. All discussion units can then be directly controlled from the same central unit. The replaceable rechargeable batteries guarantee an operating period of at least 20 hours for the ADN-W discussion units.
Up to 150 wireless discussion units can be used simultaneously. And if the need arises, further discussion units can be added quickly and easily during the conference itself. The flexible Ethernet interface features state-of-the-art technology. It allows the conference system to be controlled intuitively from a PC or media control systems.
The clear sound and comfortable listening experience are for the benefit of the conference participants in the room. In order to exclude all unwanted listeners, audio transmission via the Sennheiser ADN-W conference system is encrypted: AES 128-bit encryption protects the system securely against eavesdropping.
Maximum user-friendliness is also ensured when it comes to transporting and re-charging the wireless conference system. The flexible ADN-W Case contains dedicated, stackable modules for all system components, as well as integrated units for re-charging the discussion units. The sturdy charging and transport case can be individually adapted to the size of the system.
Sennheiser provides regular software updates to continuously improve the ADN-W system and to ensure that it maintains its state-of-the-art technology.
SpeechLine
Also launched at ISE, the Sennheiser SpeechLine portfolio embodies easy operation and clear speech intelligibility. This comprehensive range of easy to integrate and unobtrusively designed microphones offer a solution for just about any situation.
Featuring cardioid directivity for universal miking, in on-table or installed boundary layer microphones, the ranges is suitable for any conferencing situation and can be used in conjunction with Sennehiser's new TeamConnect all-in-one audio meeting solution.
Khameleon for K-array
As the name suggests, Khameleon for K-array is an exciting new way to make the innovative Italian manufacturer's loudspeakers blend in with their background or surroundings.
"There is often a requirement for the speakers within a venue to be unobtrusive," says Sennheiser UK product manager Simon Beesley. "This can be difficult, as they tend to be manufactured or painted in uniform colours.
"Khameleon, however, allows you to match your K-array loudspeaker perfectly to the background on which it will be mounted. Only a very keen eye will see the speaker, which is invaluable when you want them to blend in with the décor, or in architecturally sensitive installations."
Sennheiser UK
Top Related Stories
Click here for the latest broadcast news stories.