Broadcast News
09/12/2013
ARRI ALEXA SUP 9.0 Released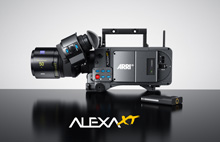 ARRI has announced the release of Software Update Packet (SUP) 9.0 for all ARRI ALEXA cameras.
Improved ProRes Recording – Higher Speeds
ARRI has increased the maximum frame rate of the highest quality ProRes codec (ProRes 4444) to 120 fps in 16:9 HD mode. This requires ALEXA XT cameras or ALEXA Classic cameras with the XR Module upgrade and the use of XR Capture Drives or CFast 2.0 cards. It is now possible to keep shooting ProRes 4444, no matter what the frame rate.
Better DNxHD Recording – 444 and ALEXA XT/XR Support
DNxHD will be available in 444 for all cameras with a DNxHD license. Developed in close collaboration with Avid, the 10 bit DNxHD 444 codec provides a suitable basis for creative grading, color keying and multi-generational finishing and mastering. DNxHD 444 clips can be recorded at up to 30 fps on 32 GB SxS PRO cards and up to 60 fps on 64GB SxS PRO cards, CFast 2.0 cards or XR Capture Drives.
ProRes Pre-Recording – Capture The Unpredictable
ARRI has developed ProRes pre-recording for all ALEXA cameras. When pre-record is enabled and the REC button is pushed for the first time, the camera continuously captures images, audio and metadata into a temporary ring buffer. When the REC button is pushed a second time, the camera keeps everything in the buffer and continues to record from there.
Open Gate – Record It All
The greater processing power of ALEXA XT cameras makes possible the new Open Gate sensor mode, which records the entire sensor area in ARRIRAW. While 16:9 and 4:3 modes will remain the standard, some specific situations will benefit from Open Gate mode, including wide-angle establishing shots, image repositioning, resizing, rotating or stabilising, native 3.4K VFX work, special venue projects or up-scaling to 4K.
More Media Choices – CFast 2.0 Support
From SUP 9.0 on, all ALEXA XT cameras and all ALEXA Classic cameras with the XR Module upgrade can use the new CFast 2.0 Adapter to record to CFast 2.0 cards. These cards, which are also used for the ARRI AMIRA camera, offer high data rates for up to 120 fps of ProRes 4444 in a robust, reliable and cost-effective package.
Support for the Cooke /i protocol as part of the ARRI Lens Data System (LDS), already present in ALEXA XT/XR cameras, will now be extended to ALEXA Classic cameras with a PL-LDS mount. Being able to recognise the ARRI LDS, as well as the Cooke /i system, allows ALEXA to read and record lens metadata from all lenses with built-in encoders for more efficient working on the set and speedier VFX in post.
Accessory Support – WCU-4 and Alura Extenders
The Wireless Compact Unit WCU-4 now offers an even tighter integration with ALEXA cameras, including proper display of pre-recording status, the ability to switch from regular speed to high speed, and a software switch for lens motor direction.
With the availability of the new 2x and 1.4x Alura Extenders, ALEXAs with a PL-LDS mount will recognise that such an extender has been installed on an LDS lens, or on a non-LDS lens used with the Lens Data Archive. The camera will record the properly re-calculated lens metadata values and show them on all numeric displays.
www.arri.com
(IT/JP)
Top Related Stories
Click here for the latest broadcast news stories.