Broadcast News
17/04/2013
Alexa XT And XR Modules Received Internationally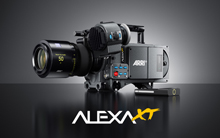 Following launch events in Los Angeles, Paris, Berlin, Munich, Beijing, Milan, Mumbai and London, the new ARRI ALEXA XT cameras (Extended Technology) and XR Modules (Extended Recording) have been received by cinematic storytellers internationally for upcoming productions.
The ALEXA XT, ALEXA XT M, ALEXA XT Plus and ALEXA XT Studio cameras will replace all previous models except for the original ALEXA.
All ALEXA XT cameras come with the new XR Module, a side panel co-developed with Codex to replace the previous SxS Module.
The XR Module allows in-camera ARRIRAW recording up to 120 fps onto exceptionally fast and rugged 512 GB XR Capture Drives.
Once removed from the camera, the XR Capture Drive offers a number of different paths into post, using the Codex workflow.
Owners of existing ALEXA cameras will be able to purchase individual upgrades to the XR Module.
Alternatively to ARRIRAW it is also possible to capture ProRes or DNxHD to an XR Capture Drive for significantly longer recording times, as well as ProRes 4444 recording at 120 fps.
ProRes 4444 at 24 fps can be recorded for a total time of 107 minutes. With an SxS Adapter it is possible to record ProRes or DNxHD to a single SxS PRO card, thus protecting the inventory of existing cards.
The Internal Filter Module IFM-1 allows ALEXA XT cameras to be rated at the base sensitivity of EI 800 without the need for external Neutral Density (ND) filters, even in bright sunlight.
The FSND (Full Spectrum Neutral Density) filters used with the IFM-1 are based on manufacturing methods that assure neutral colour balance at all of the eight available densities, from ND 0.3 to ND 2.4.
All ALEXA XT cameras are equipped with a 4:3 sensor, the same size and shape as a Super 35 mm film frame, allowing anamorphic capability with anamorphic lenses.
An anamorphic de-squeeze license is included with all ALEXA XT cameras, as is a high-speed license for filming at up to 120 fps. The 4:3 sensor is also useful for non-anamorphic productions as it permits significant reframing of the image in post, leaving space above and below the image for VFX tracking markers.
For VFX projects requiring workflow on set through post, all ALEXA XT models are equipped with a Lens Data System (LDS) mount.
The LDS reads the lens settings, distributes them to displays like the WCU-4 or the Transvideo monitors, and writes them into metadata in every ALEXA recording format. Over 41 ARRI lens models have LDS encoders built-in, ALEXA compatibility with the Cooke /i system is in the works, and for all other lenses it is possible to gather metadata by using ARRI lens motors and the in-camera Lens Data Archive.
www.arri.com
(IT/CD)
Top Related Stories
Click here for the latest broadcast news stories.