Broadcast News
12/11/2013
Calrec Finalises Sale To Russian Studio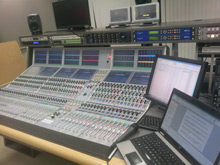 Calrec Audio has recently made a major sale to Television Technical Center Ostankino (TTC), the largest television studio facility and broadcast production company in Russia.
TTC has purchased four Apollo consoles and four Artemis Light consoles to date as part of a two-year project to upgrade all 11 studios in its Moscow facility.
The new Calrec gear will enable TTC broadcasters to produce programs in 5.1 format; control audio remotely from third-party routers; share I/O and signals among studios via simple fiber links; and reconfigure consoles between programs.
The consoles have been supplied and are being installed by Russian system integrator OKNO-TV. Four consoles are in use now, and the remaining four are scheduled to be commissioned soon.
The TTC facility houses more than 20 other Russian TV broadcasters transmitting more than 100 hours of programming per day.
TTC is linked by cable, radio relay and satellite with most television centers in Russia and facilitates the exchange of television programs over the Intervision and Eurovision networks.
TTC also has production-company clients that will use the consoles for a wide variety of programs, from magazine-type programs to government projects.
"Because we often hire them out to other production companies, our refurbished studios must be reliable, flexible, and able to handle the most complex and diverse programming," said Roman Katrovsky, sound specialist from OKNO-TV.
"The Calrec consoles will give us the ability to connect desks within a studio or cross-connect with other studios for full redundancy and added reliability. Also, as Russia transitions to HD, some programs will be produced in 5.1, some in stereo, and some in both. With these consoles, we'll be able to change configurations instantly to suit the requirements for different programs. Such features significantly lower downtime and setup time, which saves money."
So far TTC is installing one 64-fader Apollo console and one 48-fader Artemis Light console in each of four studios. Within each studio, the Apollo desk in the control room is connected via Calrec's Hydra2 audio routing system to an Artemis Light desk on the studio floor. There are also three flight-cased stage boxes per studio. I/O and signals will be shared between consoles via the Hydra2 network.
TTC chose Calrec consoles for its facility overhaul after leading Russian subscription channel NTV-PLUS — which is in the same building as TTC — adopted Calrec for its own operations.
"It became clear to us that Calrec consoles offered superior technology and networking possibilities compared to the other brands we have been using up to now," Katrovsky said.
"TTC's commitment to Calrec consoles and the Hydra2 network represents a major inroad for us into the Russian market, which has historically been dominated by other brands," said Michael Reddick, European sales manager, Calrec Audio.
"We expect that other broadcasting facilities will take their cue from one of Eastern Europe's largest broadcasting centers."
www.community.calrec.com
(IT/MH)
Top Related Stories
Click here for the latest broadcast news stories.