Broadcast News
27/10/2015
Custom Consoles Selected For Studio Project In Azerbaijan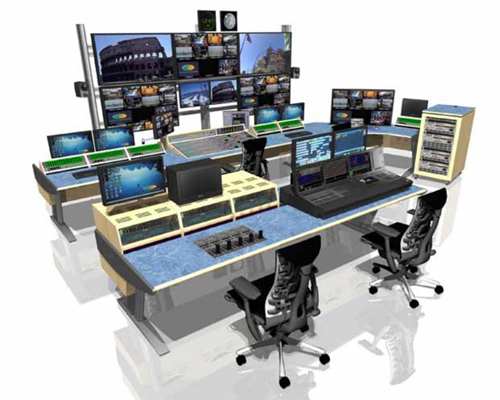 A leading broadcast systems integrator based in Azerbaijan has chosen Custom Consoles Module-R desks and Media Wall monitor display mounts for a major new project.
The furniture selected includes two video production control desks, two video editing desks, two audio control desks and two Media Wall monitor display mounting systems. All six desks were prefabricated by Custom Consoles at its UK factory before being shipped.
The two Media Walls were shipped in compact form as vertical columns and 2.66 metre wide horizontal beams. They were assembled on site and equipped with monitor panels to display camera, VTR and auxiliary sources plus two larger screens assigned to preview and programme. Each Media Wall is positioned directly in front of a video production desk within easy view of the operators.
Both video production desks are designed for simultaneous use by a camera input controller seated at left, graphics assistant (centre) and vision mixer (right). Each desk is structured as a three-bay in-line 4.66 metres unit. Four camera control panels are set into the left-hand bay plus a Sony video production switcher in the centre bay. Two desktop-level equipment bays with space for a total of eight single-rack unit equipment chassis are mounted along the rear left bay. Two additional 4 + 4U pods are positioned at the rear of the central bay.
Each of the two video edited desks is configured for use by up to two operators. The desks are of rectangular design, 2.6 metres wide, with two 3U high desktop equipment pods. An additional Sony video production switcher panel and a central Sony video editing controller are located at right. Two TV Logic video monitor panels are located on the equipment pods. An additional monitor is mounted on the left-hand bay, suspended from an Ergotron adjustable height-adjustable and angle-adjustable arm.
The two audio control desks are single-bay designs measuring 1.58 metres wide by 1.2 metres front-to-back. Each houses a Soundcraft 24-channel audio production console, a 6U high desktop equipment pod and a 24 inch monitor display on an Ergotron adjustable arm.
All six desks measure 1.2 metres front to back and are finished in beech veneer with hard-wearing grey Marmoleum desktop worksurfaces.
www.customconsoles.co.uk
(MH/CD)
Top Related Stories
Click here for the latest broadcast news stories.