Broadcast News
06/03/2019
Custom Consoles Upgrades Broadcast Studio In Azerbaijan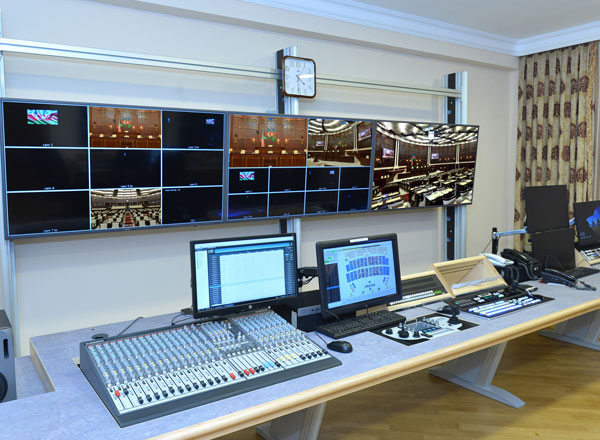 Custom Consoles has delivered a broadcast project in Azerbaijan, installing three rectangular Module-R technical control desks and a 3.8 metre wide MediaWall monitor display mount.
The Module-R and MediaWall solutions were selected by Azerbaijan Parliamentary Television for the National Assembly in Baku.
Local specialist broadcast systems integrator ProMix commissioned the project.
"We were very pleased to be selected to work on this very high profile installation," said ProMix General Director Gunduz Suleymanov. "Custom Consoles' Module-R and MediaWall have proved highly successful in many of our studio control room projects over the years. Our customers like the desk ergonomics, the robust build quality and the easy access to equipment for routine maintenance. As system integrators, we appreciate the modularity which makes Module-R desks easy to predesign and match to specific control-room dimensions.
"MediaWall is also very popular with customers, allowing freeform attachment of video monitor panels in practically any size as well as auxiliary devices such as loudspeakers and studio clocks. The support frames are very stable and Custom Consoles also has a good understanding of cable ducting both in their desks and in MediaWall."
"All three desks as well as the MediaWall were pre-assembled at our UK factory and then delivered to ProMix who then installed the desks in the parliamentary TV studio control suites and integrated the technical equipment," added Custom Consoles' Sales Manager Gary Fuller.
"Largest of the three desks is a 4.7 metre wide five seat unit incorporating an Allen & Heath audio mixer, Telemetrics robotic camera controller, Ross Carbonite Black video production switcher, Cinegy playout, ingest, CGs and auxiliary engineering facilities. Located in the master control hall, this is equipped with two sloping-front equipment pods, 3 U and 4 U capacity respectively, plus an additional 4 U pod at the producer's seat to hold programme-related documentation. Six computer monitors are mounted on Ergotron adjustable arms behind the main work surface. The desk front is parallel with the MediaWall display.
"Second of the three Module-R designs is a 4 metre wide four-seat control desk for use by two producers and two engineers. Both engineer positions again have a worktop-embedded Telemetrics robotic camera controller and each producer has immediate access to a Ross Carbonite Solo switcher plus an audio mixer.
"The third desk is 3.6 metres wide and configured for use by three media management staff assigned to video editing and archiving. All three desks are constructed from maple-veneered MDF with hard-wearing Arabesque worktop surfaces."
A mix-and-matchable control room furniture range, Custom Consoles' Module-R enables aesthetically attractive long-life desks to be configured in a variety of shapes and dimensions from a selection of high-quality pods, base sections, 19 inch rack housings, worktops, end-panel modules and legs. Coordinated desk pods are available as single-bay sections with up 10 rack unit chassis capacity. Module-R has been tested by FIRA to ensure compliance with current ISO standards. It is supplied with full cable management and internal 19 inch racking, accessible via removable front and rear cover panels. All rear surfaces and pods are completely interchangeable. A full length cable brush enables easy reconfiguration.
MediaWall allows flat-screen monitor displays of practically any width to be constructed from standard horizontal and vertical support elements. It can be used as a fully self-supporting structure or coupled directly to a studio wall. Individual screens can be positioned so that the edges meet exactly to form a continuous horizontal display limited only by the boundary of the monitor panel itself. All wiring is fully concealed and can enter or leave the structure at any desired point. Media Wall is available in any specified element widths.
www.customconsoles.co.uk
Top Related Stories
Click here for the latest broadcast news stories.