Broadcast News
15/08/2019
Be tv Selects Custom Consoles Module-R Studio Control Desks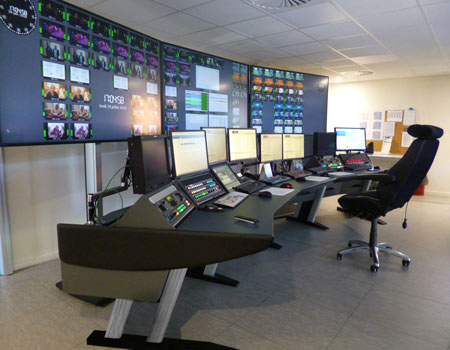 Benelux broadcaster Be tv has chosen Custom Consoles Module-R studio control desks as part of a major expansion of its technical facilities.
The new project comprises a total of seven desks which will integrated into Be tv's headquarters in Charleroi.
"We were attracted to Custom Consoles by their evident long experience in producing attractively styled, ergonomically efficient and robust broadcast control room furniture," said Be tv's Broadcast Engineering & Maintenance Manager Serge Daneels. "The Module-R series formed a basis from which we could specify exactly the style and size of desks we needed without the high cost of commissioning tailor-made designs."
The largest of the desks is a 7.27 metre wide by 2.64 metre curved master control room console designed for simultaneous use by up to eight production staff. Each team member has access to a dedicated 4U equipment pod positioned at the rear of the work surface.
Second in size is a 4.7 metre wide desk, also curved. Each of the the outer bays is equipped with two 4U equipment pods.
Desk 3 is an L-shaped design, 4 metres wide by 2.5 metres deep, with a 45 degree angled corner unit and a total of nine 4U high equipment pods. This is configured for use by four master control room operators.
The 4th desk in the project is a rectangular 2.2 metre wide ingest console with two bays, each bay equipped with dual 4U equipment pods. The left-hand bay is extended to provide additional horizontal space behind the worktop.
Desk 5 is a rectangular live production console, 3.1 metres in width and configured as two identical bays. Each bay of this unit is equipped with dual 4U high equipment pods offset to the right. An EVS vision mixer control panel is embedded directly into the left segment of the right-hand bay.
Desk 6 is similar in configuration to Desk 5 but with an EVS vision mixer control panel embedded into the left-hand bay and a total of five 4U high equipment pods. This too is assigned for use as a live production console.
The 7th desk is a compact single-bay live production console, just over 1 metre in width and fitted with two 4U high equipment pods.
All seven desks are finished in grey with dark blue Marmoleum worktop surfaces and silver anodised extruded aluminium legs with steel skids. All equipment pods adjoin the worktop rear and are positioned with the front facias sloping back at 45 degrees from vertical. Concealed cable ducting from floor level for is provided via the legs and between all desk bays.
A mix-and-matchable control room furniture range, Custom Consoles' Module-R enables aesthetically attractive long-life desks to be configured in a variety of shapes and dimensions from a selection of high-quality pods, base sections, 19 inch rack housings, worktops, end-panel modules and legs. Coordinated desk pods are available as single-bay sections with up 10 rack unit chassis capacity.Module-R has been tested by FIRA to ensure compliance with current ISO standards. It is supplied with full cable management and internal 19 inch racking, accessible via removable front and rear cover panels. All rear surfaces and pods are completely interchangeable. A full length cable brush enables easy reconfiguration.
www.customconsoles.co.uk
Top Related Stories
Click here for the latest broadcast news stories.