Broadcast News
27/09/2017
Custom Consoles Celebrates 21 Years of Studio Desk Innovation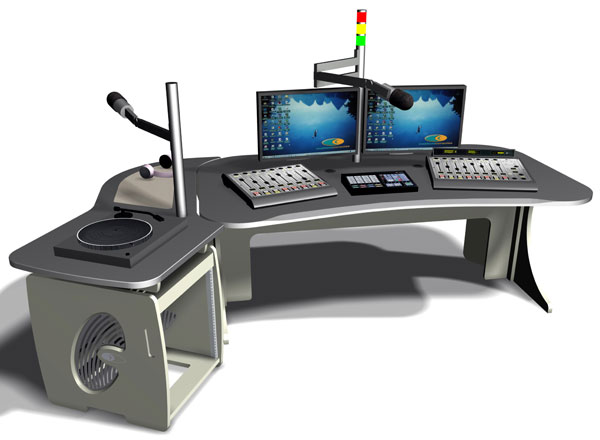 Custom Consoles this year marks 21 successful years as a world-leading innovator in the design and production of broadcast control room desks and studio furniture. The anniversary was celebrated informally during the mid September International Broadcasting Convention.
Custom Consoles' Managing Director Neil Reed, said: "When we commenced operations in February 1996, our aim was to reduce the need for expensive tailor-made desks which added significantly to the cost of many broadcast studio projects.
"We knew from our own background in broadcast systems design that studio furniture must conform to a wide range of parameters. It has to be robust enough to last at least the lifetime of the studio suite itself, typically five to seven years before the next major upgrade. Other vital issues were easy access for equipment installation and cable management, good ventilation, and good ergonomics for users working long shifts. Desks and related furniture must also fit the available space and be visually attractive enough to impress visitors, especially facility-house clients."
Custom Consoles' co-founder and Business Director Graham Buchanan, added: "We introduced our first standard design in 1998. That was the System One fixed-height graphics desk and side-table, followed in 2000 by the motorised height adjustable System Two. In 2004 we added M-Desk which allows the desktop height to be adjusted between 660 and 900 mm using a retractable handle. Module-R, which followed in 2005, proved to be the most successful development in the company's history because it gives system integrators the freedom to specify complete furniture configurations.
"Module-R is still going strong, based on a nominally standard range of desk sections, worktops, rear tops, end-panel modules, extruded legs and equipment storage pods. Cable management is integrated into all desk sections. In 2006 we added the Media Wall range of video and loudspeaker display mounts, again modular to match any size and scale, for control rooms, presentation suites and studio backdrops."
Other significant Custom Consoles innovations included the EditOne post-production suite desk. Introduced in 2013, this went beyond traditional rectangular styling by using using sculpted MDF support panels rather than metal legs. Two years later, in 2015, a sister product to Media Wall was introduced: the free-standing MediaPost. This is intended for applications such as supplementary monitors in a control room, studio floor monitors, off-camera talent prompts or part of an in-view studio background.
At IBC 2017 Custom Consoles introduced the EditOne-Radio desk for use in radio interview suites, presentation studios and voiceover booths. EditOne-Radio can be configured to match a wide range of audio production environments including live radio broadcasting.
Sales Manager Gary Fuller, also said: "Demand for technical furniture in the broadcast and independent studio sectors remains very strong in our European home markets, the Middle East, Asia and APAC. One of the highlights of 2017 was being chosen by Broadcast Center Europe to provide over 50 desks for the new RTL City complex in Luxembourg. RTL City is one of Europe's largest broadcast media centres.
"BCE were keen to source all the desks from a single supplier, keeping the task of equipment installation and wiring as consistent as possible. It was also a logical decision in terms of efficiency, future maintenance and unified visual styling. BCE made a very careful study of the available furniture products was made before choosing Module-R and EditOne desks. Samples were sent for evaluation and we also provided constructive ideas based on the high degree of design flexibility made possible by combining elements within the Module-R product range.
"In recent years we have expanded into heavy duty technical furniture for the power industry. Among high profile projects in that category was technical control furniture from our SteelBase range for the Large Hadron Collider beauty (LHCb) experiment at CERN's experimental site on the Franco-Swiss border. The contract included the design and installation of desks for the LHCb main control room and the LHC cryogenics control room on site. It was followed early this year by a second technical control desk project for the CERN Heavy Magnet Testing control room."
customconsoles.co.uk
(MH)
Top Related Stories
Click here for the latest broadcast news stories.