Broadcast News
31/10/2013
TSL To Showcase At CCW 2013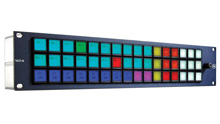 TSL Products is to showcase its intelligent TallyMan Control Systems alongside its full range of the Power Management family of products at CCW 2013 (Booth 1342).
"Both the TallyMan and Power Management families were designed based on our experience within the Systems Integration world to continue to simplify the control and management of small to large broadcast systems," says Chris Exelby, Managing Director at TSL Products.
"We're looking forward to presenting these powerful and intelligent technological solutions to CCW/HD World visitors. Both ranges allow users to spend less time managing their systems and more time creating dynamic content."
The TallyMan is designed to efficiently coordinate critical infrastructure components, including routers, vision switchers, multiviewers and cameras from multiple vendors.
"Capable of displaying a real-time overview of a TV facility, the system ensures that the creative team, talent and camera operators are aware of (and can instruct) relevant systems at pertinent times throughout the production," a statement from TSL said.
TallyMan offers two controllers – the TallyMan VP (Virtual Panel) and the hardware-based TallyMan TMCP (Control Panel).
The virtual panel has a touch screen GUI and the ability to address numerous routers from different manufacturers.
Control Panels are available in 16, 32 and 48 button variations, and offer all the capabilities of the TallyMan Virtual Panel in a hardware-based form factor.
Each button is a TFT screen that is capable of displaying 16 characters or customised bitmaps, providing system wide control of critical multi-vendor devices from a common platform.
Also on display will be TSL Products' full range of Power Management products. The units enable systems managers to monitor and control all rack-mounted equipment, remotely, from anywhere in the world and to manage power requirements.
The MDU-12PMi provides complete visibility of the health of the rack, monitoring status and alerting if preset limits are exceeded.
The MDU Change Over products are designed to work in any system where reliable switching is needed between the main and secondary power supplies. MDU-14B-32A is a reliable four-way mains distribution unit at excellent value.
TSL will also be introducing its Vertical Intelligent Power (VIP) distribution unit.
The VIP provides all the power and functions of the company's intelligent power distribution line in a vertical format. It maximises rack space as well as streamlining the installation and configuration of rack-mounted equipment, offering users the option to mix and match between basic and intelligent power configurations to suit the specific application.
TSL will also demonstrate its smart power management dashboard, PsiMon, for use with its Power Management products.
PsiMon is an SQL server-based system that allows users to monitor and control the power levels of a multitude of rack-mounted devices remotely, ranging from temperature and voltage to GPIs and equipment fuse status. The dashboard displays a dynamic bar graph that shows real-time alarm status and numerical readings for parameter values. Rapid fault-location is achievable with a single mouse click, taking operators directly to the location of any fault and streamlining product maintenance.
www.tslproducts.com
(IT/JP)
Top Related Stories
Click here for the latest broadcast news stories.