Broadcast News
30/09/2013
MRMC Showcases New Range At IBC2013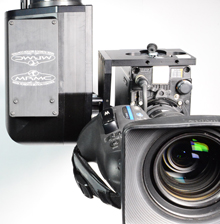 Mark Roberts Motion Control used IBC this year to showcase its new line of broadcast robotic systems, including the Polycam, Bolt and the AFC-100 pan and tilt products.
The AFC-180 has been designed to deliver pan speeds of up to 180° per second and can carry payloads of up to 14kg.
Weighing 6kgs, the head when combined with a compact 2/3" sensor camera and an ENG lens, is typically around 10kgs.
The first of the AFC180 series has been ordered by a major motor sports production company and will be on the road later this year.
Also at IBC was Polycam Velocity, a networked robotic system that allows a single operator to follow a pre-determined track or circuit using multiple camera angles.
Using Velocity software and an onsite calibration procedure, the operator can adjust the speed of the camera moves to follow the subject along a course.
MRMC has released a range of automated lens control options, including slaved zooms where framing is synchronised throughout all camera positions.
The company also used IBC2013 to showcase its BOLT cinebot rig, paired with Love High Speed's VR Phantom camera.
MRMC has made Bolt into a seamless and fully supported rental service and its Flair Motion Control software provides full table top programming tools for operators, DPs and Directors.
www.mrmoco.com
(IT/JP)
Top Related Stories
Click here for the latest broadcast news stories.