Broadcast News
10/09/2018
MRMC Introduces Polycam One Multi-Camera System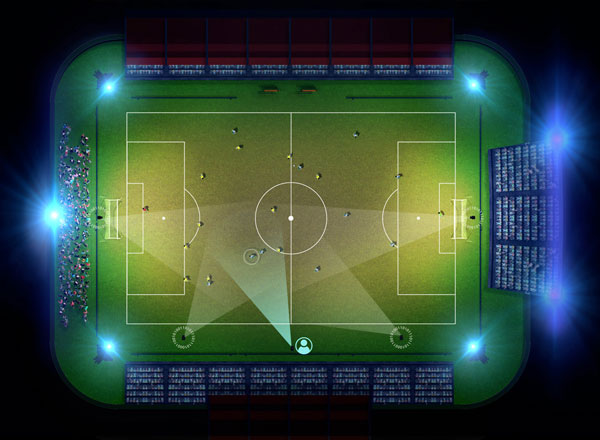 Nikon Group company MRMC has introduced its latest automated multi-camera system for live sports capture, the Polycam One, ahead of the company's biggest ever presence at IBC.
Polycam One is an innovative, portable, multi-camera workflow solution that gives a single operator the ability to record a match from multiple camera positions simultaneously. It maps out the playing area and the locations of up to 12 robotic cameras. The camera operator follows the action with the 'main' camera, while Polycam One controls the additional robotic cameras, following the focus of the 'main' camera. MRMC's Algorithmic Camera Control lets the operator concentrate on covering the action while the Polycam One system provides complimentary shots, such as a wide or high tactical view, which can be used for highlights, replays or adjudication.
The robotic cameras are IP connected, allowing the operator, or an additional remote operator, to adjust and control them in real time providing a more dynamic visual experience.
Easily deployed and configured by a single operator, Polycam One is perfect for use in multiple locations and can be set up in venues where conventional camera positions are not available. The portable nature Polycam One makes it ideal for smaller or temporary venues that may not have the infrastructure to support automated tracking solutions, and also gives sports teams the ability to easily capture footage from multiple angles at training grounds.
Polycam One is compatible with all of MRMC's robotic heads giving venues the flexibility to choose large or smaller cameras to suit the sport being captured, the camera positions required and the available budget.
MRMC Managing Director Assaff Rawner said: "Polycam One is an ideal solution to adding more camera angles to what would normally be a single camera operation. Its innovative design means it can easily be deployed, configured and operated by one person and, with our robotic heads providing up to 12 additional cameras, gives you more options for capturing the action."
MRMC at IBC 2018
This year, MRMC has three stands at IBC showcasing the latest in intelligent automated camera solutions & high speed robotic camera technology. Their primary location in Hall 10, stand D.26, which MRMC is sharing with Nikon B.V., will feature a range of small footprint, multi-camera robotic solutions. There will be hands on demonstrations of the Polycam Chat, a solution that simplifies and augments small-scale studio environments with AI, and the Polycam Player, a real-time player tracking solution for stadium environments, both of which were unveiled at NAB earlier this year. Used in conjunction with the IP controlled Robotic Pod, which features a Nikon D5 full-frame DSLR at its heart, and the AFC 100 pan-tilt head, visitors will be able to experience first-hand the power of both fully automated and user augmented touchscreen motion control.
In addition, MRMC's Studiobot (a 7-axis alternative to traditional robotic pedestals and dollies for TV and news studios), the high payload UltiHead and the lightweight, silent Whisper Head will all be on display demonstrating their capabilities.
The Bolt Jr will be making its IBC debut at the company's second location in Hall 12, stand F.11. A smaller and lighter weight alternative to the world's fastest cinebot, the Bolt, the Bolt Jr is a compact 6-axis camera robot arm ideal for smaller studios, film sets or on location.
MRMC will also host its famous Bolt dancing robot in Hall 14. Hugely popular at NAB earlier in the year, IBC attendees will get to see the Bolt show off its moves.
www.mrmoco.com
Top Related Stories
Click here for the latest broadcast news stories.