Broadcast News
26/07/2019
CyanView To Showcase New Additions To Camera Control Systems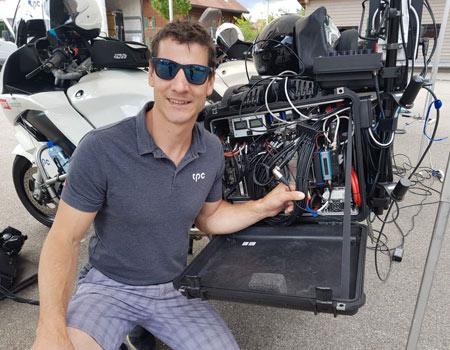 CyanView is to showcase new additions to its range of camera control systems, as well as demonstrating how the Cy-Stem range is revolutionising what's possible in terms of allowing content creators to deliver compelling, engaging viewer experiences at IBC 2019 (Stand 10.D31).
"Of the many requests we receive for camera control, one of the most frequent is to be able to locate a camera in a car, on a motorbike, on board a helicopter or on a drone," said David Bourgeois, founder and CEO of CyanView. "That delivers huge creative potential for any program maker to grab and retain the attention of even the most blasé viewer, delivering an experience that in some ways is better than being there – or can even complement seeing the action in person as it happens."
CyanView's response to those requests is the new Cy-Ri0. Based on the highly successful Cy-Ci0, and delivering the same functionality, it now offers the option of control via 4G. Cy-Ri0 has the ability to control any camera over any communication channel including, for example, IP (cabled or Wi-Fi).
"We demonstrated the Cy-Ri0 at NAB," Bourgeois added. "A camera was located in Paris – almost 9,000 kilometres away - but we controlled it via 4G, with a latency of less than 200 milliseconds. If the latency had been unacceptable, we could have combined the Cy-Ci0 with the Cy-VP4 to mitigate it.
"The architecture we developed for the Cy-Ri0 provides a great deal of simplification for remote productions. Camera control protocols are all handled by the Cy-Ci0 unit itself: all data communications with the cameras and other accessories are handled locally, without latency or bandwidth constraints."
The RIO and the VP4, winning solutions when jointly used in remote production, were successfully utilised during the Tour de Suisse. TPC used CyanView's technology to control the Sony P1 through the whole race. The VP4, in particular, enabled fine tunings and camera matching with no latency.
Also being shown at IBC for the first time is the new Cy-GWY-IO. A much smaller version of CyanView's Cy-GWY gateway, it includes 16 x GPI for tally and touchdown, and enables an unlimited number of cameras to be connected. The Cy-GWY-IO provides a cost-effective solution for budget productions using the EVA1-Live or small standalone setups, such as a pair of goal cameras.
The range of mini cameras that can benefit from its Cy-Stem control system now includes units from Blackmagic, CIS, Dream Chip, IOI, Marshall and Toshiba, as well as PTZ cameras from Lumens, Marshall, Panasonic and Sony.
Since IBC last year, CyanView's Cy-VP4 camera control unit has evolved into a universal CCU that can be combined with any camera head to bring live system camera features to smaller camcorders and D-Cinema cameras. Beyond this, the Cy-VP4's built-in secondary correction capabilities - such as multi-matrix - enable a variety of cameras to be matched, providing the flexibility to mix different types of camera within the same production.
Cy-Stem is a unique solution that brings new levels of capability and flexibility to live production.
The IP-based Cy-Stem range comprises a universal RCP control panel – giving control of an unlimited number of cameras – and a series of small hardware modules that address four key areas in broadcast production: control and matching of mini and specialty cameras on sports events, reality TV, game shows and so on; wireless or remote production with ENG and small camcorders; integration via the RCP of colour correctors with advanced processing for camera matching; and digital cinema cameras for live recording such as concerts or game shows.
www.cyanview.com
Top Related Stories
Click here for the latest broadcast news stories.