Broadcast News
25/09/2013
Anton/Bauer: Perfect Match At U.S. Open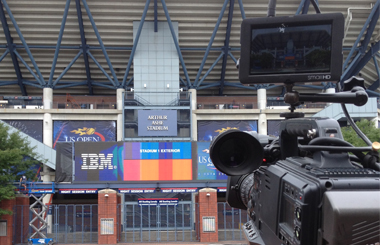 Anton/Bauer, part of Vitec Videocom, a Vitec Group company and a premier global provider of batteries, chargers, and other mobile power systems for the professional broadcast, video, film and healthcare technology industries, held the home court advantage at the 2013 U.S. Open Tennis Championships, assisting freelance camera operator Michael Frye in his filming of the tournament's key matches and fan reactions for the Tennis Channel.
Frye used Anton/Bauer mobile power products exclusively for his coverage of the three-week-long tennis championship, specifically selecting the company's DIONIC® 90 batteries for their known portability and longevity. "I've been using Anton/Bauer batteries for years, as long as I've been working in this industry," he says. "Even when I was in school, these were the batteries I was taught on, so I trust them, especially when I'm shooting run-and-gun style, like I was at the U.S. Open."
Anton/Bauer's DIONIC 90 batteries were particularly useful to Frye during the U.S. Open, as they allowed him to shoot on his Panasonic AG-HPX370 camera for many hours. "We were constantly on the go, in ridiculously hot heat, so a lot of the shooting I did was handheld. That's why we used the DIONIC 90s," he says. "The batteries are small, but super powerful. They generally lasted seven hours, which is great for when we're making our way around the stadium surrounded by hundreds of thousands of people and don't have the energy to carry six heavy batteries for backup all day. I only carried two batteries a day, one loaded in the camera and one in my bag."
*
(MH/CD)
Top Related Stories
Click here for the latest broadcast news stories.