Broadcast News
27/06/2016
US Open Deploys New Marshall Camera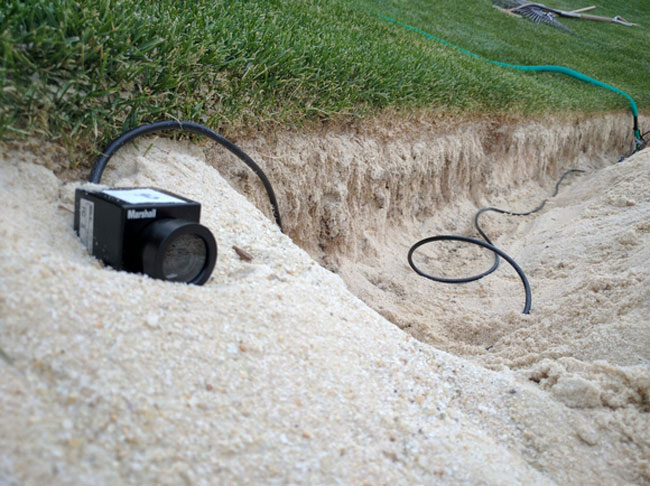 The new weatherproof CV502-WPM from Marshall Electronics is now available from Cache Media, having recently received its first professional sports usage at the 116th US Open in Pittsburgh.
US Integrator Jeff Silverman, owner of Inertia Unlimited, had planned to use Marshall's CV502-M mini-HD cameras for the PGA tournament. With turbulent weather conditions forecast for the qualifying rounds on Thursday and Friday, however, Marshall supplied Silverman with a few final production units of the CV502-WPM cams, the new weatherproof version of the CV502.
The two CV502-WPM cameras were installed into the 17th Hole, the 'big mouth', bunker just to the right of the Green. For the installation, Silverman had just 15 minutes to set up the cameras, including running cable, setting up the shot and testing the signal. The cameras were also installed on green side of trap so they were not exposed to the direction of the ball from the fairway during game play.
The CV502-WPM, incorporates everything the CV502-M camera delivers, but encased in a weatherproof IP67 rated housing. The CV502-WPM is suited for applications where weather is a factor, and leverages a state-of-the-art 1/3-inch high speed sensor packing 2,476,296 pixels (2.5 Megapixels) of clear video capture through full sized 3G/HD-SDI (BNC) outputs at resolutions of 1920x1080i, 1920x1080p, 1280x720p & frame-rates of 60/50/30/25 fps.
New proprietary pixel technology offers low noise ratio, capturing sharp colour images in very low light conditions, as low as 0.05 lux.
The CV502-WPM Pro-Series POV Camera continues to offer Field-of-View flexibility with interchangeable lenses and the convenience of HD-SDI outputs maintaining a broadcast standard for POV camera applications. Its ability to use the new RS485 connection offers remote camera control communication via SONY VISCA or PELCO protocols.
The CV502-WPM is available from Cache Media in the UK.
www.cache-media.com
(JP)
Top Related Stories
Click here for the latest broadcast news stories.