Broadcast News
03/07/2013
Sachtler Captures Rise And Fall Of Shooting Gallery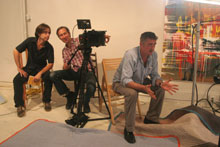 Recently, director/producers Whitney Ransick and Bob Gosse, along with DP/producer Gil Gilbert and his co-DP Derek Wiesehahn, chronicled the rise and fall of the iconic production group The Shooting Gallery.
'Misfire: The Rise and Fall of The Shooting Gallery' features on-camera interviews interwoven with chosen footage that the team shot with a Canon EOS 5D Mark II supported by a Video 20 fluid head tripod system from Sachtler.
"We shot the film with the Canon 5D Mark II camera and an assortment of lenses," Gilbert says.
"We wanted a fairly natural look with a limited depth-of-field, so we were often shooting wide open on the lenses. In the end, we did over 45 interviews both in New York and Los Angeles, and wherever we went, Sachtler's Video 20 tripod was there to support us.
"One of the single most important tools when shooting in this documentary style is the tripod," he adds.
"When working on a documentary you usually have limited set up time and are constantly grabbing things as they occur. So, having the Sachtler, which is versatile, easy to set up, and rock steady when you shoot is very important. I've used just about every make and model of tripod made and Sachtler is by far the best. It makes my job so much easier. I don't have to re-do a shot because of a bad head, or an uneven movement. So it takes the worry out of it, which allows me to focus on other things."
One of Gilbert's first interviews was with Edie Falco, an original member of The Shooting Gallery group, when it started in 1990.
"We shot in New York, and had about 40 minutes of time to capture that interview," Gilbert recalls.
"We were in a small confined space and had a lot to talk about in a short time. She was great, talking about the first feature the company did, Laws of Gravity, which was made for $45,000 in 12 days and was sold to Island Pictures. There was no time to say "stop, we have a problem". I just put the camera on the Sachtler Video 20 and knew it would be rock solid, allowing me to concentrate on her words.
"It was the same when we interviewed Michael Spiller, a highly praised TV producer/director in L.A. (Sex In the City, Modern Family, The Mindy Project). Our time was tight, and we had to pack a lot into what we were allowed. Documentary shooting is not, as many think, something that you can take your time with. Production may span a year or more – but when you are shooting, you have a very limited time. You have to get it right – the first time. And that's what we can do, with Sachtler support."
Misfire: The Rise and Fall of The Shooting Gallery is in final edit and will be seen at various film festivals in the coming months.
www.sachtler.com
(IT/JP)
Top Related Stories
Click here for the latest broadcast news stories.