Broadcast News
01/12/2016
Shooting Partners Purchases VR Camera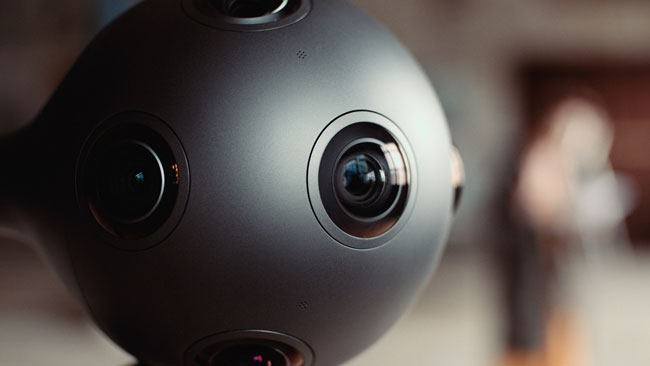 Shooting Partners has announced that it can now offer the Nokia OZO available for hire. The purchase by the equipment rental company is part of its expansion beyond broadcast and into the VR camera rental and high-end corporate markets.
The OZO delivers virtual reality with eight 2K-by-2K sensors capturing 360-degree spherical video and eight microphones recording 360x360 surround sound. Designed and engineered by Nokia, it is a compact, lightweight stereoscopic unit that captures multiple high resolution viewpoints but outputs a single video file that can be previewed in real time during recording.
Currently, the OZO kit is available from Shooting Partners as wet hire only. The deal includes a fully trained technician for set-up and operation, the OZO VR camera, 3 x OZO Digital Cartridge bundles (each bundle includes a rechargeable battery and a removable OZO Media Module that supports recording for 45 minutes), OZO Docking Station (for battery re-charge and media transfer), and Macbook Pro with Oculus DK2 Head Mounted Display (allowing users to preview the output from the OZO camera in real time).
Shaun Wilton, Director, Shooting Partners, said: "There's no other camera that compares to the Nokia OZO. There are small, low-cost 360-degree cameras that produce low quality footage and there are mounts that allow you to create 360-degree views using multiple stand-alone cameras, but no other solution provides both the ease-of-use and quality that the OZO does. We've been waiting for a really good VR camera to come along and the OZO is it.
"We've been through a lot of significant shifts in the industry – the move from standard to high definition, tape to tapeless and IP workflows – and we believe that VR is the next big thing. But the appetite for virtual reality video is not limited to broadcast – products like Google Cardboard and PlayStation VR have made this content so accessible that it's moved from niche to mainstream very quickly and there's already high demand for VR video even though there aren't any VR broadcast channels – yet."
www.shooting-partners.co.uk
(JP/LM)
Top Related Stories
Click here for the latest broadcast news stories.