Broadcast News
29/09/2016
Sachtler Launches Freddie Wong Signature Tripod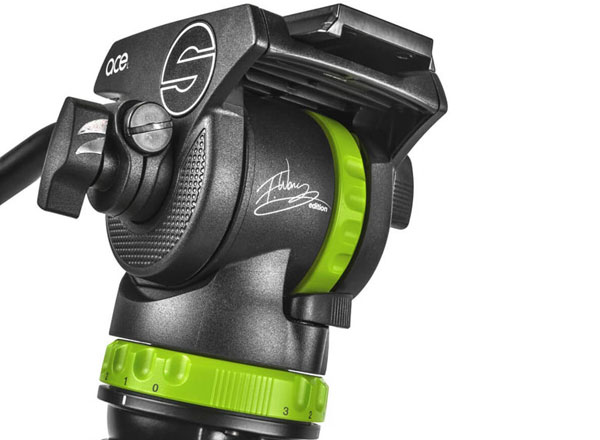 Sachtler has announced the launch of a limited edition Freddie Wong Signature Edition Ace L tripod system.
Wong, a filmmaker and YouTube star, has used the Sachtler Ace L throughout his rise in the industry and while filming comedy shorts for his production company RocketJump. RocketJump has more than seven million subscribers and 1.2 billion views on YouTube and has branched out into its own Hulu Series entitled RocketJump: The Show.


This configuration offers an Ace L head with aluminium legs with a lime green accent, just like Freddie's go-to glasses. A limited edition, the system can handle camera packages up to 13.2lbs.
The 75mm bowl tripod offers operators a durable option, providing the ease of use and quick set up.
This signature system weighs 4.5kg (9.9lbs) and includes an aluminium tripod with a mid-level spreader, footpads with retractable spikes, and a carrying bag. It also incorporates features such as easy, accessible controls and fast adjustments.
Mr Wong said: "I'm incredibly excited to be working with Sachtler and to lend my John Hancock to their Ace L line of tripods.
"Since 2010, when we started uploading videos, Sachtler has always been the go-to tripod for all of our productions. We tend to go for a guerilla aesthetic and the Ace L in particular fits right in by combining excellent build quality with a light weight."
Tobias Keuthen, Director of Global Brand Management, Sachtler, added: "The Sachtler brand has long stood for filmmakers and broadcasters who are on the go creating. We are thrilled to partner with Freddie and reach the next generation of creators. We hope this special configuration will help inspire them. With this new tripod, our customers get trouble-free shooting in every environment with improved features that will provide all the control and flexibility required to deliver a best-in-class Sachtler performance."
sachtler.com
Top Related Stories
Click here for the latest broadcast news stories.