Broadcast News
30/05/2013
NFSA Acquires SCANITY Film Scanner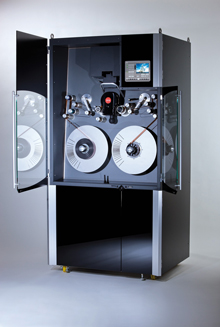 The National Film and Sound Archive of Australia (NFSA) has acquired the Digital Film Technology GmbH (DFT) new motion picture film scanner SCANITY.
NFSA purchased SCANITY for the digitisation of its holdings of 16mm film in the national audiovisual collection.
The new acquisition will add to the NFSA's existing capability for scanning small-gauge film.
Introduced in 1923 16mm film is one of the most common film gauges, favoured particularly by independent filmmakers, documentary producers, and as a format for non-theatrical distribution.
The national audiovisual collection holds 91,000 16mm titles - more than all other film formats combined.
Michael Loebenstein, CEO of the NFSA says: "16mm film, once a format to liberate filmmakers from the confines of industrial production and the first democratic distribution medium, has become the poor cousin of legacy formats. As the stewards of the Australian screen heritage, NFSA makes a substantial investment in the future accessibility of an important part of our collective audiovisual memory. The timing is fortunate as in 2013 we celebrate the centenary of Film Australia and Australian documentary film; a legacy that to a great extent survives in the 16mm format."
The SCANITY scanner selected by the NFSA is being supplied via Future Reality Ltd, Australia.
The selection criteria included the ability to handle fragile, shrunken film, and scanning of soundtracks and images at high resolution.
Simon Carter, Sales Director for Digital Film Technology GmbH said: "SCANITY will greatly enhance the film ingest capability for the NFSA's ageing collection, preserving the true value of this historical content for future generations.
"Delivering high quality data capture from archival 16mm material is fraught with a range of complex considerations predominantly physical damage like dust, abrasions and shrinkage, which can only be managed by the correct technology. The real-time SCANITY is designed specifically to handle just these concerns and deliver the best possible 2K or 4K data files in a fast and yet controlled manner. Digital Film Technology GmbH is delighted that the NFSA, has after an extensive evaluation period, chosen the SCANITY for this historical 16mm film capture."
Ian Gilmour, Head of Technology Strategies at the NFSA says: "The DFT SCANITY performs very well in the gentle handling of fragile, shrunken film and efficient scanning of soundtracks and images at high resolution."
www.dft-film.com
(IT/CD)
Top Related Stories
Click here for the latest broadcast news stories.