Broadcast News
18/04/2013
Festival Launches In The Town With No Cinema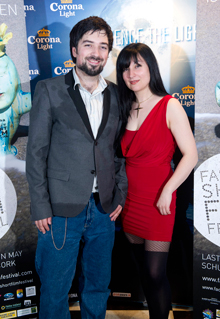 As film-festival season begins across Europe, one town in West Cork, Ireland, is planning a theatrical event with a difference - in that it has no cinema.
Last night saw the launch of the Corona Fastnet Short Film Festival, which takes place in Schull, West Cork from 22-26 May.
The launch took place at a Cinematographer's Party at The Bodega, Cornmarket Street Cork.
Despite the fact that the town has no cinema, organisers of the film festival have come up with a means to showcase over 250 films all over the town by encouraging filmmakers, tourists and locals to access the submitted competition films locally, on their laptops, iPads and smart phones, simply by logging on to the Festival's Short Film Archive.
For five days at the end of May, Schull village itself becomes a screen.
This year's area of special focus is Animation, with contributions from David Quin of CGI Generator for Brown Bag's 'Give up your Auld Sins', Mike Ahern of Team DADDY and Rob Cullen of Boulder Media among many others.
Speakers at the event were the Mexican Ambassador to Ireland, his Excellency Carlos Garcia de Alba, the Cork Screen Commissioner, Niall Mahony, and of course, the festival's main sponsor, Michael Barry of Barry & Fitzwilliam, importers of Corona Extra.
Also in attendance to celebrate the festival's success were Directors Carmel Winters, Tony Barry, Chris O'Neill from the Triskel Arts Centre and Sminky Shorts (Jason Sullivan).
The launch event brought both first time filmmakers and established directors together for the announcement that internationally renowned Hollywood Director and Cinematographer Andrzej Bartkowiak will take part in this year's Festival.
Andrzej was Director of Photography on three films to receive Academy Award nominations for Best Picture, 'The Verdict', 'Terms of Endearment' (which won 5 Oscar Awards), and 'Prizzi's Honor'. Other names announced included Lenny Abrahamson with 'What Richard Did', Sminky Shorts with 'Unseen Footage', and Music Documentary maker Myles O'Reilly among others.
Also featured at the festival will be Local Interest Films and a World Cinema Programme to include the best short film selections from Turkey, Poland, Spain and Mexico.
Renowned Mexican actress Diana Bracho and Iván Trujillo Bolio, Director of the International Film Festival, Guadalajara will also take part. Round table discussion with Gerry Stembridge, Carmel Winters and Pat Kiernan of Corca Dorca will also be on offer.
"The Corona Fastnet Short Film Festival is a major showcase for Irish and international short film production and has been held in high regard on a local, national and international level for several years now. The 2013 festival includes over 250 short films, Q&A sessions, premieres, workshops and round table discussions, with numerous, industry experts and post production professionals from Ireland and abroad." says Chairman of the Festival, Maurice Seezer.
www.fastnetshortfilmfestival.com
(IT/CD)
Top Related Stories
Click here for the latest broadcast news stories.