Broadcast News
16/04/2013
HHB Mics Up UK Journalism Courses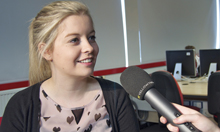 HHB Communications Ltd. has been supplying British Universities with multiple Yellowtec iXm Digital Recording Microphones to support leading journalism programs.
Staffordshire University, Sheffield Hallam University and the University of Derby have all benefitted from HHB's mic technology.
The company originally supplied Staffordshire University with 21 iXms for their BJTC accredited flagship undergraduate and postgraduate courses in Broadcast Journalism.
They have since expanded their stock by an additional ten, to cater for students on other broadcast-based awards (Music Broadcasting, Radio Production, Sports Journalism).
Richard Mortimer, Media Technician for Staffordshire's Broadcast Journalism Department, comments: "All our students are expected to produce work of a professional standard and we pride ourselves on offering industry-level equipment and facilities for them to work with.
"The Yellowtec iXm is the ideal tool for our broadcast journalists – it's robust, has a user-friendly interface and yet offers a great range of recording presets and settings for technical administrators. The iXm has become the 'go-to' piece of kit for anybody seeking to record interviews for radio bulletins, attend press conferences and upload audio to our outward-facing news website, StaffsLive.co.uk. Staff and students alike have hailed them as a complete success and we can only see ourselves expanding our stock in the future."
Sheffield Hallam University purchased 21 iXms to replace recording devices that the students found too complicated. Team Leader for Sheffield Uni's Creative Media department John Blythe explains: "The iXm mics were originally purchased as a straight forward recorder because they required no external microphone attachment and they are very simple and straightforward to use. Our journalism students are using these microphones to record interviews and other segments of their radio shows and we are very pleased with the quality of the recordings."
The iXm is an all-in-one audio tool for reporters in the field, but works for anyone involved in podcasting to professional journalism.
A new iPad/iPhone App adds audio editing features for recordings made with iXm. It features a built-in SD card slot that accepts standard SD or SDHC memory cards as well as UBS connectivity for interfacing with computers.
Auto levelling is provided by its LEA processing engine. The microphone's detachable capsule design and set of six capsules allows iXm to be configured to different applications and optimised for high speech intelligibility and low handling noise sensitivity.
The capsules are twist-off-twist-on exchangeable and available with different polar patterns, including omnidirectional, cardioid and supercardioid.
www.hhb.co.uk
(IT/CD)
Top Related Stories
Click here for the latest broadcast news stories.