Broadcast News
31/08/2011
Philip William Captures Coast With Yellowtec iXm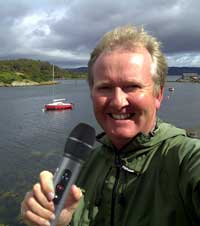 Broadcaster, writer and photographer Philip Williams has completed the first quarter of a 5,000 mile walk round the British coastline to raise funds for Alzheimer's Society. Using a Yellowtec iXm solid-state audio recorder purchased from Preco, he is capturing interviews with local people as the basis of a planned radio series called 'Characters on the Coastline' and an accompanying book.
"My mother was diagnosed with Alzheimer's a few years ago," Philip Williams explained. "The disease afflicts a surprisingly high proportion of people, particularly in advancing age, and can appear in any family. Finding a cure is a cause well worth promoting. My aim is raise £100,000 through sponsorship. I have already recorded discussions with a lot of interesting people and am happy to interview anyone who has a story to tell."
Mr Williams continued: "Portability is vital when you are backpacking so I was keen to record direct to flash memory. At first sight, there is quite a wide choice of suitable recorders and I tried various devices before recently narrowing the search to the Yellowtec iXm which is a real reporter's tool. 

The iXm looks and feels like a normal professional microphone, which helps to get interviewees into the right frame of mind. Everything is housed inside the stick. The iXm is available with a choice of Beyerdynamic heads - omnidirectional, cardioid or supercardioid- which simply screw on and off. I carry and use all three, depending on the application and the local sound conditions, plus a Ryecote windshield when necessary. Being able to capture 48 hours of uncompressed WAV on an interchangeable 16 gigabyte SD memory card gives you a lot of confidence when you are recording on location.

"
The broadcaster, added: "Many miniature recorders have absurdly small control switches hidden away at the sides and even on the back. The iXm can be started and stopped with clearly-visible decently-sized pushbuttons located exactly where you need them. And they work silently. As recording is file-based, there is no danger of writing one track over the top of another. Audio quality can be monitored live via headphones or files played afterwards.

 A particularly useful feature of the iXm is the look-ahead peak limiter which acts as a safeguard against overload, allowing you to concentrate on the interview rather than worry about unexpected transients. The sound quality and freedom from handling noise are excellent. A lithium-ion battery plus three AA cells, all inside the handle, together allow up to 18 hours of operation so there is always plenty of power in reserve."
Commenced at Brighton's West Pier on Saturday 20 February, Philip Williams' clockwise walk has so far encompassed the south-west of England, Wales, north-west England and the coast of south-west Scotland. The journey can be followed in detail via
www.philipwilliams.uk.com
(BMcN)
Top Related Stories
Click here for the latest broadcast news stories.