Broadcast News
06/12/2019
Cardiff University Boosts Journalism School With New Module-R Desks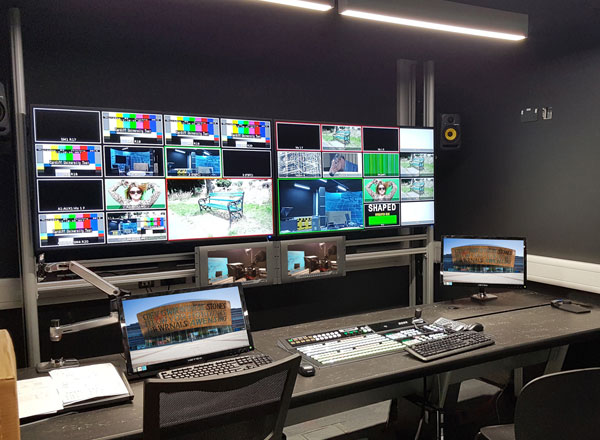 Cardiff University has called on the expertise of Custom Consoles to complete upgrades at its School of Journalism, Media & Cultural Studios.

The firm has installed its Module-R studio control desks and two MediaWall monitor display mounts as part of the university's full broadcast-quality news studio facility designed by UK-based system integrator ATG Danmon.

"We were invited to propose a turnkey solution based on an outline specification provided by the university," explained ATG Danmon Managing Director Russell Peirson-Hagger. "The project coincided with a relocation to new city-centre premises. It comprised a large TV studio and dedicated gallery, a smaller TV studio with its associated gallery, plus a broadcast newsroom. These will be used to train the next generation of television, radio, online and printed-media journalists. Module-R desks and MediaWalls are used in many broadcast facilities in the UK, Europe, MENA and Asia, so were a logical choice given the need to match the functionality and processes of a real broadcast environment. They are robustly constructed, ergonomically efficient for engineering staff and well as operators, and attractively styled. Both product series also gave us the freedom to match the available room dimensions from standard modular elements."

"Our role in the project was to prebuild and install desks for two training areas," added Custom Consoles Sales Manager Gary Fuller. "These comprise a four-operator control room suite for Studio 1 and a three-operator suite in similar style for the Studio 1 control room. Each suite is equipped with a six-bay wide (3.2 metres) rectangular desk facing a 2.65 metre wide MediaWall. The main desk in Studio 1 control has a Ross production switcher panel embedded in the central operator's position. Behind each desk is a dual-bay (1 metre wide) sound control desk with Yamaha audio mixing console. An Ergotron manually-adjustable monitor support arm is mounted within reach of all four operators in the Studio 1 control room and all three operators in Studio 2 control.

"All four desk worktops are finished in hard-wearing black Marmoleum matching the walls and ceiling colour in each control room. Each MediaWall supports two 55 inch monitor displays plus smaller video monitors and loudspeakers."

A mix-and-matchable control room furniture range, Custom Consoles' Module-R forms a basis from which broadcast desks can be configured in a variety of shapes and dimensions via a selection of pods, base sections, 19 inch rack housings, worktops, end-panel modules and legs. Coordinated desk pods are available as single-bay sections with up 10 rack unit chassis capacity. Module-R has been tested by FIRA to ensure compliance with current ISO standards. It is supplied with full cable management and internal 19 inch racking, accessible via removable front and rear cover panels. All rear surfaces and pods are completely interchangeable. A full length cable brush enables unrestricted cable entry and exit anywhere along the length of the desks.

Custom Consoles' MediaWall allows flat-screen monitor displays of practically any width to be constructed from standard horizontal and vertical support elements. MediaWall can be used as a fully self-supporting structure or coupled directly to the studio wall. Individual screens can be positioned so that the edges meet exactly to form a continuous horizontal display limited only by the boundary of the monitor panel itself. All wiring is fully concealed and can enter or leave the structure at any desired point. MediaWall is available in any specified element widths.
Top Related Stories
Click here for the latest broadcast news stories.