Broadcast News
05/04/2013
Pixel Factory To Debut At NAB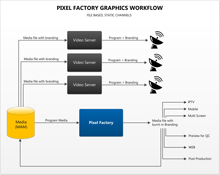 Pixel Power, supplier of broadcast playout solutions with integrated graphics, will debut Pixel Factory™, a new turnkey, server-based implementation of Pixel Power's renowned core graphics engine, at NAB 2013.
The new system supports file-based operations in broadcast workflows where output quality and process automation are highly valued, but the enhanced hardware demands of live production and playout are not required.
Pixel Factory recently began shipping, and its first installation took place at the facilities of a leading independent UK channel.
Pixel Factory will make its formal public debut at the NAB 2013 Exhibition on April 8 at the Las Vegas Convention Center in booth N2034.
"In today's multi-channel and multi-screen marketplace, a 'one-size-fits-all' approach to graphics creation doesn't respect the full needs of broadcasters," said Pixel Power President James Gilbert.
"Pixel Factory enables a facility that is using Pixel Power graphics playout systems to add file-based graphics capability where they need it, at a price and with the flexibility that encourages the development of less traditional operations within the same facility."
Among the applications for Pixel Factory are:
Producing graphics overlays for QC, web delivery or post production
Creating graphics for program material and graphics overlays for thematic/static channels for playout by video or streaming file server
"Burned-in" branding, promotion and graphics watermarking for multiscreen or video on demand content.
Pixel Factory employs the same core graphics software engine common to all Pixel Power hardware systems.
Output from Pixel Factory is pixel-for-pixel identical to the output from Pixel Power Clarity™, LogoVision™, BrandMaster™ and ChannelMaster™ systems. While Pixel Factory is designed for offline production, it is capable of "better-than-real-time performance", depending on the server hardware deployed. Pixel Factory is also available in Clips and 3D configurations to support the most sophisticated graphics production requirements.
Pixel Factory includes Pixel Power Gallium Workflow Management. This integrated scheduling, asset management and workflow automation system makes it possible to automatically manage multiple rendering devices to optimise processing resources in a facility.
Pixel Factory will debut at NAB 2013 and is available immediately. It is delivered in a turnkey package of optimised hardware and software that is ready for integration.
www.pixelpower.com
(IT/CD)
Top Related Stories
Click here for the latest broadcast news stories.