Broadcast News
25/07/2013
Pixel Power IBC Preview 2013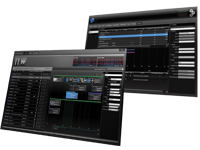 Pixel Power delivers innovative graphics production and delivery systems – including its market leading graphics engine Clarity™, which is at the heart of LogoVision™ (multichannel playout), BrandMaster™ (master control with integrated graphics) and ChannelMaster™, the no compromise channel-in-a-box. With over 2000 installations worldwide, Pixel Power equipment is used by broadcasters, OB truck companies, playout facilities, post-production houses, venues and sports complexes. Pixel Power systems enable users to deliver dynamic live and pre-recorded content for any SD, HD, 4K, mobile, online or interactive application. For 25 years Pixel Power's engineering prowess and dedication to customer support have made it the industry's primary choice.
INTERNATIONAL LAUNCH OF PIXEL FACTORY:
Pixel Factory™: At IBC 2013, Pixel Power will be launching its new Clarity Graphics solution for file-based workflow branding of media and interstitial 2D and 3D graphics. A single unit is capable of providing graphics for multiple channels - breaking the one-unit-per-channel paradigm. Running on readily available standard IT server hardware, Pixel Factory is quick and easy to scale and in addition can be deployed at discrete locations, making sharing between facilities or departments a breeze. No need to incur additional graphics production cost either, Factory can repurpose existing Pixel Power templates and the automation capabilities will ensure consistency and accuracy of output. Finally, the i-styling means it's intuitive to use and easy on the eye.
INTERNATIONAL LAUNCH OF PIXEL ONDEMAND:
Pixel OnDemand™: Also being revealed at IBC 2013 is Pixel OnDemand, which delivers all the benefits of the new Pixel Factory, including the legendary Clarity graphics but with the revolutionary introduction of use-based pricing. Pixel OnDemand puts the graphics engine into an easily deployed software package that runs on standard IT servers, making it perfect to meet the needs of nonlinear, store-and-play content delivery operations such as IPTV channels, video on demand services, mobile content, news operations, and second screen viewing applications – and the best part - output is pixel-for-pixel identical to the output quality of any Pixel Power hardware product.
ALSO ON SHOW:
Pixel Power will also be showing ChannelMaster, the no-compromise, channel-in-a-box that provides a cost-effective and reliable approach to deploying new channels. In addition a demonstration of Gallium™ will be available, Pixel Power's highly integrated and scalable scheduling, asset management and automation system, which provides the intelligence to build a variety of playout solutions using Pixel Power output devices. It's ideal for playout facilities that need to implement automated control of the company's transmission devices for graphics or complete channel playout. The latest release of Clarity™ Graphics with a range of new features will also be on show.
Pixel Power
(MH)
Top Related Stories
Click here for the latest broadcast news stories.